September 19, 2012
Vikings jump all the way to 13th in NCAA poll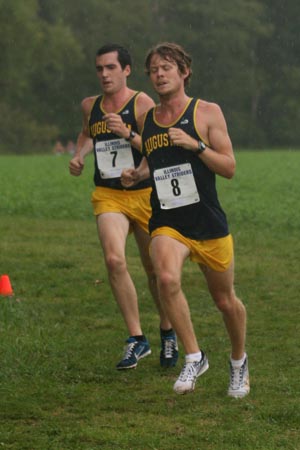 Brian Pollastrini (left) and Jonathan Smith (right) have been two veteran leaders for the Vikings, who are currently ranked 13th in NCAA Division III, during the early going of the 2012 men's cross country season.
ROCK ISLAND, Ill. — Thanks to a very fine performance at the Illinois Intercollegiate Championship on Friday, September 14 in Normal, Illinois, the Augustana men's cross country team jumped six spots in the NCAA Division III national poll this week. Veteran head coach Paul Olsen's team was ranked 19 th last week but placed fifth in the Illinois Intercollegiates and soared all the way to 13 th.
The Vikings one of six teams from the Midwest Region ranked in the top 15 in the nation in this poll, which is conducted by the US Track & Field/Cross Country Coaches Association. North Central is currently ranked first with Washington (third), Wheaton (seventh), Wisconsin-LaCrosse (10 th), Augustana (13 th) and Chicago (15 th) giving the region a strong showing on the national scene.
Augustana will host the Brissman/Lundeen Invitational on Friday, September 21 at Saukie Golf Course in Rock Island, Illinois.
2011 USTFCCCA MEN'S CROSS COUNTRY POLL (Week #2)
| | | | | |
| --- | --- | --- | --- | --- |
| Rank | School (1st place votes) | Pts | Region | LAST |
| 1 | North Central (Ill.) (8) | 280 | Midwest | 1 |
| 2 | Haverford | 272 | Mideast | 2 |
| 3 | Washington (Mo.) | 262 | Midwest | 3 |
| 4 | SUNY-Geneseo | 253 | Atlantic | 4 |
| 5 | Bates | 249 | New England | 5 |
| 6 | Calvin | 241 | Great Lakes | 6 |
| 7 | Wheaton (Ill.) | 233 | Midwest | 7 |
| 8 | Tufts | 225 | New England | 7 |
| 9 | Middlebury | 211 | New England | 10 |
| 10 | Wisconsin-LaCrosse | 207 | Midwest | 13 |
| 11 | Williams | 187 | New England | 14 |
| 12 | Rochester | 183 | Atlantic | 20 |
| 13 | AUGUSTANA | 172 | Midwest | 19 |
| 14 | SUNY-Cortland | 167 | Atlantic | 9 |
| 15 | Chicago | 163 | Midwest | 11 |
| 16 | Allegheny | 161 | Mideast | 15 |
| 17 | St. Olaf | 150 | Central | 16 |
| 18 | Wabash | 145 | Great Lakes | 17 |
| 19 | NYU | 134 | Atlantic | 12 |
| 20 | Dickinson | 125 | Mideast | 21 |