September 18, 2012
Women's tennis moves to 7-2 with win at Cornell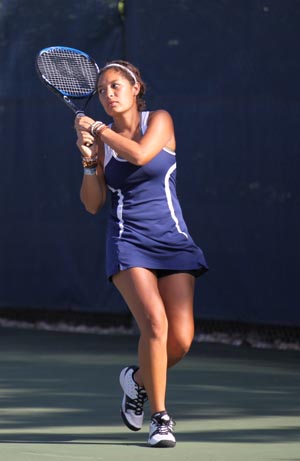 Junior Mariah Bardo upped her individual record to 7-2 with a win at number five singles as Augustana defeated Cornell 7-2 on Tuesday afternoon in Mount Vernon, Iowa.
MOUNT VERNON, Iowa - After having a six-match winning streak snapped on Saturday by Upper Iowa, Augustana rebounded nicely with a 7-2 victory over Cornell on Tuesday, September 18 in Mount Vernon, Iowa. The non-conference win allowed second year head coach Jon Miedema's team to bump its record to 7-2.
The Vikings jumped out to a 3-0 lead after the doubles competition. Junior Kim Sawyer (Batavia HS, Batavia, Ill.) and freshman Aileen MacDonald (Mundelein HS, Mundelein, Ill.) picked up an 8-3 win over Alyssa Zavislak and Kara Middleton at number one. Sophomores Miranda Pence (Oswego HS, Oswego, Ill.) and Chelsea Lavin (Downers Grove South HS, Downers Grove, Ill.) beat Samantha DeGannes and Ellie Purdy 8-4 at number two.
At number three doubles the all-senior team of Krista Panko (Geneva HS, Geneva, Ill.) and Meghan Wethington (Geneseo HS, Geneseo, Ill.) defeated Claudia Landsman and Phoebe Milner 8-2.
Panko and Wethington are now 8-1 this season while Sawyer/MacDonald are 6-3 and Panko/Lavin have a 7-5 record.
Sawyer picked up a 6-0; 6-0 whitewash of DeGannes at number one singles and is now 8-1 on the season. MacDonald defeated Purdy at number four singles 6-1; 6-0 to move to 7-3. Junior Mariah Bardo (Sterling HS, Sterling, Ill.) is 7-2 after beating Landsman 6-3; 6-3 at number five. Junior Katie Scharnagle (Wheaton St. Francis HS, Lisle, Ill.) defeated Milner 6-1; 6-1 at number six and moved her record to 5-4.
Augustana will now host Wheaton on Saturday, September 22 at 9:00 a.m. and St. Ambrose at 3:00 p.m.