September 18, 2012
Vikings remain 15th in soccer poll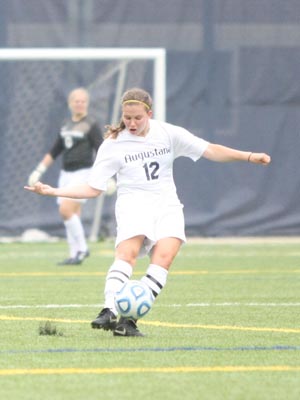 Senior Morgan Olsen scored her second goal of the season against Dubuque last week, helping Augustana remain undefeated and ranked 15th in the NSCAA/Continental Tire Division III women's soccer poll.
KANSAS CITY, Kan. - The Augustana women's soccer team won its only game last week, 3-0 at Dubuque to improve to 5-0-0 this season, and remains at number 15 in this week's NSCAA/Continental Tire poll. Freshman Somer Druszkowski (Lincoln-Way Central HS, Manhattan, Ill.), sophomore Kimberly Grimmer (Downers Grove South HS, Woodridge, Ill.) and senior Morgan Olsen (Downers Grove North HS, Woodridge, Ill.) provided the scoring in the win over the Spartans.
Coach Scott Mejia's Vikings debuted in the poll at number 19 before moving up 15th last week. CCIW rival Wheaton, also 5-0-0, ascended to the top spot in this week's poll.
Augustana hosts Wisconsin-Whitewater and Milwaukee School of Engineering this week. The Warhawks visit Thorson-Lucken Field on Wednesday, September 19 in a 5:00 p.m. match and MSOE comes to town on Sunday, September 23 at 2:00 p.m.
2012 NSCAA/CONTINENTAL TIRE NCAA DIVISION III WOMEN'S RANKINGS
Week 3
| | | | |
| --- | --- | --- | --- |
| Rank | School | Previous | W-L-T |
| 1 | Wheaton (Ill.) | 3 | 5-0-0 |
| 2 | Emory | 2 | 4-0-2 |
| 3 | Trinity (Texas) | 5 | 4-0-1 |
| 3 | Messiah | 4 | 4-1-1 |
| 5 | Hardin-Simmons | 7 | 4-0-1 |
| 6 | Amherst | 7 | 2-0-0 |
| 6 | Johns Hopkins | 6 | 5-1-1 |
| 8 | Ithaca | 12 | 6-0-0 |
| 9 | Middlebury | 10 | 3-0-0 |
| 10 | William Smith | 1 | 4-1-1 |
| 11 | Lynchburg | 11 | 6-0-1 |
| 12 | Washington (Mo.) | 9 | 5-1-0 |
| 13 | Centre | 13 | 5-0-0 |
| 14 | Virginia Wesleyan | 14 | 6-0-1 |
| 15 | AUGUSTANA | 15 | 5-0-0 |
| 16 | College of New Jersey | 17 | 6-0-0 |
| 17 | Union (N.Y.) | 19 | 6-0-0 |
| 18 | Wisconsin-Oshkosh | 16 | 5-0-1 |
| 19 | Wheaton (Mass.) | 23 | 5-0-1 |
| 20 | Ohio Northern | 20 | 2-0-2 |
| 21 | Misericordia | 21 | 5-0-1 |
| 22 | SUNY Fredonia | NR | 4-1-0 |
| 23 | Wartburg | 22 | 5-1-1 |
| 24 | Brandeis | 18 | 5-1-0 |
| 25 | Linfield | NR | 6-0-0 |
Receiving votes: Carnegie Mellon, Westfield State, Alma, Springfield, SUNY New Paltz, Concordia-Moorhead (Minn.), Stevens Institute of Technology, Bowdoin, Wisconsin-Stevens Point