September 16, 2012
Second day comeback leads to team title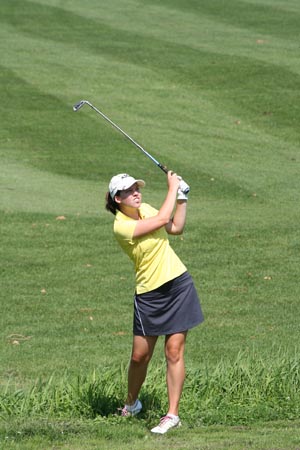 Senior Megan Vandersee placed third individually with a two-day total of 162 to help lead Augustana to the championship at the Benedictine Invitational on Sunday, September 16 in West Chicago, Illinois.
WEST CHICAGO, Ill. - Led by senior Megan Vandersee (Sterling HS, Sterling, Ill.), Augustana overcame a seven stroke deficit on the second day of the Benedictine Invitational on Sunday, September 16 at St. Andrews Country Club in West Chicago, Illinois. The comeback allowed the Vikings to tie for first place with Robert Morris in the nine-team tournament and they were awarded the first place trophy based on a better score from the fifth player.
Augustana finished the two-day event with a score of 674 as Ron Standley's team had a 331 on the first day and a 343 on the second day. Robert Morris led after day one with a 324 but shot 350 on the second day to tie with the Vikings at 674. The first place trophy was decided by the fifth player's score and senior Morgan Wilkinson (Westmont HS, Westmont, Ill.) shot a 175 (87+88) while Robert Morris' fifth player was Candice Koth, who had a 181 (93+88).
Monmouth finished third with a score of 688 (339+349) while Concordia-Wisconsin took fourth at 701 (358+343) and Edgewood was fifth with a 741 (375+366). Benedictine was sixth at 742 (359+383) with the Augustana "B" team placing seventh at 759 (384+375). Aurora had 773 (399+274) in eighth and Marian took ninth at 776 (392+384).
Vandersee put together two solid rounds as she carded a final score of 162 (82+80) and placed third in the individual standings. Freshman Michelle Dempster (Mother McAuley HS, Oak Lawn, Ill.) finished in a tie for sixth with a two day total of 169 with an 81 on the first day and an 88 on the second. Junior Kelly Farina (Normal West HS, Bloomington, Ill.) had a 173 (85+88) and tied for 10th place.
Junior Dena Capitani (Hinsdale Central HS, Hinsdale, Ill.) shot 174 (83+91) and tied for 12th place. Wilkinson shot 175 (87+88) as did freshman Samantha Barlage (Marian Catholic HS, Lansing, Ill.), who had individual rounds of 88 and 87. Wilkinson and Barlage tied for 14th place.
The top finisher for the Augustana "B" team was sophomore Kaitlyn Czerwonka (Batavia HS, Batavia, Ill.) with a 176 (89+87) and a tie for 16th place.
Augustana will compete next at the Mount Mercy Invitational at Hunter's Ridge Golf Course in Marion, Iowa on September 22-23.