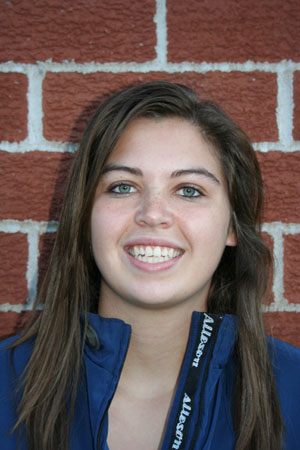 Sarah Osier*
Hometown:
 Naperville, Ill.
Position:
 Goalie
Number:
 38
Height:
 5-10
High School:
 Central
Class:
 Soph.
Major:
 Psychology
Bio:
Sarah Osier, a second year, plays goalie. Sarah is from Naperville, Illinois, where she attended Naperville Central High School and played for Players Lacrosse Club. She has played a total of six years. So far, Sarah has received MVP and All-Conference awards in High school. Last year at Augie she received the Athletic "A" Award and was ranked as the 20th best goalie in the nation. Sarah's favorite lacrosse memory is beating North Central at the last game on the season. She loved that her friends and family were all there to cheer her on.
Sarah plans on majoring in Psychology. Her dream job after college is to be a psychologist. She chose Augustana because of the small class sizes and all the people she had meat before coming to Augustana were so nice. Her favorite thing about Augie is she can get involved in so many different activities on campus. Sara is most looking forward to meeting new people and hanging out with old friends more. When Sarah isn't playing lacrosse she enjoys being a member of Chi Omega sorority and Active Minds on campus.
An interesting fact you may not know about Sarah is that she knows how to sew and knit. Sarah's favorite food is pasta and her favorite color is purple. If Sarah could have dinner with anyone living or dead she would pick Jenna Marbles. A super power Kelly would like to possess is the ability to fly. Sarah's favorite sport to watch during the 2012 London Olympic Games was gymnastics. Sarah is scared of failure. She is inspired by her family and friends because they support her and push her to be her best. Sarah is the daughter of Kari and Jerry Osier and sister of Erica.