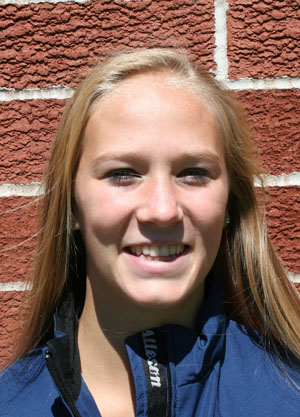 Rebecca Pollard
Hometown:
 Carmel, Ind.
Position:
 Midfield
Number:
 28
Height:
 5-7
High School:
 Westfield
Class:
 Fr.
Major:
 Secondary Education and Mathematics
Bio:
Rebecca Pollard, first year, plays midfield. Rebecca is from Westfield, Indiana, where she attended Westfield High School and played for Indy United Lacrosse club. She has played lacrosse for a total of five years. So far, Rebecca has received an MVP award, four year varsity captain, and four year varsity letter award winner. Rebecca's favorite lacrosse memory is beating Guerin in overtime.
Rebecca plans on majoring in Secondary Education and Mathematics. Her dream job after college is to be a math teacher and mother. She chose Augustana College because of the lacrosse team, the many majors offered, the atmosphere, the people, and the staff. Her favorite thing about Augie is being a part of the lacrosse team. Rebecca is most looking forward to getting to know how a college athletic team works this year. When Rebecca isn't playing lacrosse she enjoys puzzles, movie, and friends.
An interesting fact you may not know about Rebecca, is she has never broken a bone. In addition, her favorite food is pasta and her favorite color is blue. If Rebecca could have dinner with anyone living or dead she would pick her grandparents on her mother's side because they both died before she met them. A super power Rebecca would like to possess is a photographic memory to help her with her school work. Rebecca's favorite sport to watch during the 2012 London Olympic Games was gymnastics. Rebecca is not scared of anything so far. She is inspired by her parents because they were able to raise three girls who are very successful in life. Rebecca is the daughter of Ted and Peggy Pollard and sister to Kate and Anne.