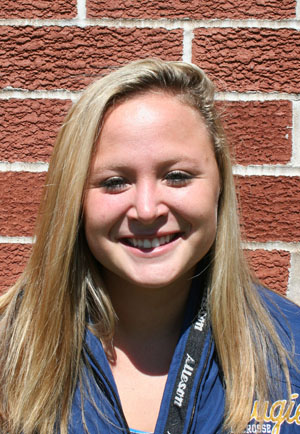 Kate Zisser
Hometown:
 St. Louis, Mo.
Position:
 Attack
Number:
 23
Height:
 5-7
High School:
 Kirkwood
Class:
 Soph.
Major:
 Pre-Physical Therapy
Bio:
Katharine Zisser, a second year, plays attack. Kate is from Kirkwood, Missouri, where she attended Kirkwood High School and played for Brave Lacrosse Club. She has been playing lacrosse for the past six years. Kate was a captain, MVP, 1st team All-Conference, 1st team All-State. Her favorite lacrosse memory is the North Central College game.
Kate plans on majoring in Pre-Physical Therapy. Her dream job after college is to be a physical therapist. Kate chose Augustana College because the lacrosse team. Her favorite thing about Augie is the people she has met here. Kate is most looking forward to beating Carthage this lacrosse season! When Kate isn't playing lacrosse she enjoys crafting.
An interesting fact you may not know about Kate is that she worked in an automotive shop all summer and can perform a complete oil change. Kate's favorite food is chicken and dumplings and her favorite color is yellow. If Kate could have dinner with anyone living or dead she would pick David michFreese. A super power Kate would like to possess is the ability to fly. Kate's favorite sports to watch during the 2012 London Olympic Games were swimming and gymnastics. Kate is scared of drowning. She is inspired by her older brother, Alex, because he is a record holding runner with a 4.0 GPA. Kate is the daughter of Mark and Debbie Zisser and sister of Alex and Zack.