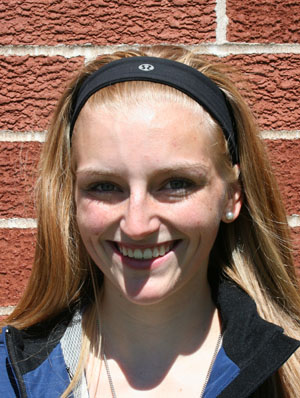 Quinn Foley
Hometown:
 Orland Park, Ill.
Position:
 Midfield
Number:
 22
Height:
 5-10
High School:
 Carl Sandburg
Class:
 Fr.
Major:
 Economics/Stocks
Bio:
Quinn Foley, a first year, plays midfield. Quinn is from Orland Park, Illinois, where she attended Carl Sandburg High School and played for Cool Sticks Lacrosse club. She has been playing lacrosse for the past five years and had the honor of being a captain. Her favorite lacrosse memory is traveling all over to play in different lacrosse tournaments.
Quinn plans on majoring in Economics/Stocks. Her dream job after college is to be a financial advisor or stock broker. Quinn chose Augustana College because it does not make her feel like a number, but an individual who matters on campus. Her favorite thing about Augie is how great the professors are and the nice people. Quinn is most looking forward to winning lacrosse games this year. When Quinn isn't playing lacrosse she enjoys Sponge Bob, shopping, hockey, and football.
An interesting fact you may not know about Quinn is that she owns over 200 pairs of shoes. In addition, her favorite food is Whitey's chocolate chip cookie dough ice cream and her favorite color is purple. If Quinn could have dinner with anyone living or dead she would pick Daniel Tash because he is funny. A super power Quinn would like to possess is to fly. Quinn's favorite sport to watch during the 2012 London Olympic Games was gymnastics. Quinn is scared of fish and snakes. She is inspired by her family because they support her, love her, and push her to be the best. Quinn is the daughter of Matt and Pam Foley.