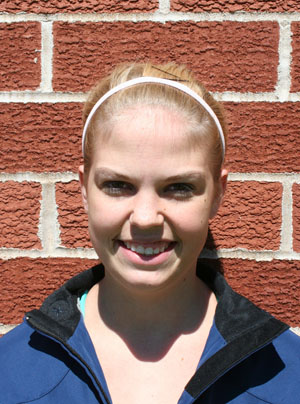 Jenna Hofmann
Hometown:
 Littleton, Colo.
Position:
 Goalie
Number:
 21
Height:
 5-3
High School:
 Columbine
Class:
 Fr.
Major:
 Business Marketing and Communications
Bio:
Jenna Hofmann, a first year, plays goalie. Jenna is from Littleton, Colorado, where she attended Columbine High School and played for Team Colorado Lacrosse Club. She has played lacrosse for a total of nine years. So far, Jenna has received team MVP, and All-Conference second team. Jenna's favorite lacrosse memory is playing in semifinals at the University of Denver.
Jenna plans on majoring in Business Marketing and Communications. Her dream job after college is to be the head marketing position at a fortune 500 company. She chose Augustana because of the small size, the people, and the classes. Her favorite thing about Augie is the people. Jenna is most looking forward to winning many games. When Jenna isn't playing lacrosse she enjoys participating in Ice hockey.
An interesting fact you may not know about Jenna is in high school she was voted most likely to become a millionaire. Jenna's favorite food is steak and her favorite color is blue. If Jenna could have dinner with anyone living or dead she would pick Steve Jobs. A super power Jenna would like to possess is teleportation. Jenna's favorite sport to watch during the Olympic Games is Ice Hockey. Jenna is scared of heights. She is inspired by her parents because they are the strongest and most-caring people she knows. Jenna is the daughter of Allen and Lori.