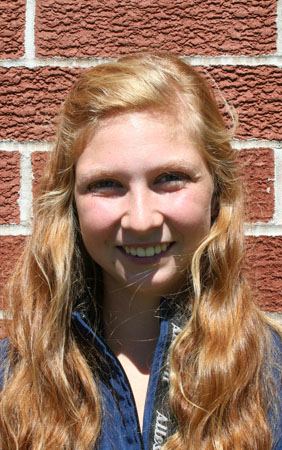 Shelby Cosman
Hometown:
 Saint John, Ind.
Position:
 Midfield
Number:
 20
Height:
 5-9
High School:
 Marian Catholic
Class:
 Fr.
Major:
 Biology and Education
Bio:
Shelby Cosman, a first year, plays midfield and attack. Shelby is from St. John, Indiana, where she attended Marian Catholic High School and played for Lakeshore and cool sticks Lacrosse clubs. She has been playing lacrosse for the past three years. So far, Shelby has received the offensive MVP award, team captain, 5th in state for number of points, team MVP, academic All-American, All conference, and most goals in one game. Her favorite lacrosse memory is beating McCauley in overtime at her home field, beating out a storm.
Shelby plans on majoring in biology and education. Her dream job after college is to be a helicopter pilot. Shelby chose Augustana College because of the academics and lacrosse program. Her favorite thing about Augie is the close nit community. Shelby is most looking forward to playing lacrosse and making new friends this year. When Shelby isn't playing lacrosse she enjoys being outside and hanging out with friends.
An interesting fact you may not know about Shelby is that everyone compares her to an animated character. Shelby's favorite type of food is fruit and her favorite color is blue. If Shelby could have dinner with anyone living or dead she would pick Walter Payton. A super power Shelby would like to possess is laser vision. Shelby's favorite sports to watch during the 2012 London Olympic Games were beach volleyball and swimming. Shelby is scared of spiders and clowns. She is inspired by her family because they support her in everything. Shelby is the daughter of Sue and Jeff Cosman and sister to Megan.