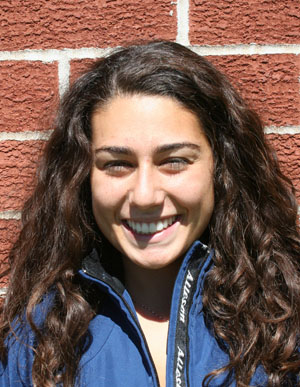 Alex Palmisano*
Hometown:
 Wheaton, Ill.
Position:
 Midfield
Number:
 15
Height:
 5-2
High School:
 Wheaton Warrenville South
Class:
 Soph.
Major:
 Biology and Neuroscience
Bio:
Alex Palmisano, a second year, plays midfield. Alex is from Wheaton, Illinois, where she attended Wheaton Warrenville South High school and played for Players and Cool sticks Lacrosse clubs. She has played a total of four years. Alex's favorite lacrosse memory is from last year when Augustana won their first game at Birmingham South.
Alex plans on majoring in Biology and Neuroscience. Her dream job after college is to be a storm chaser. She chose Augustana College because she liked the idea of having a small community spread out over a large campus. Her favorite part about Augie is the close community feeling she gets when she's here. Alex is most looking forward to this coming year because she wants to spend time with the lacrosse team and wants to meet many new people. When Alex isn't playing lacrosse she enjoys hanging out with her fellow teammates, especially goofing off with her roommate Emily.
An interesting fact you may not know about Alex is that she is always nervous. Alex's favorite food is Jimmy Johns and her favorite color is purple and green. If Alex could have dinner with anyone living or dead she would pick Ghandi. If Alex could pick any super power, it would be the ability to teleport. Alex's favorite sport to watch during the London 2012 Summer Olympics was men's swimming. Alex is scared of all bugs. Alex is inspired by Ghandi. Alex is the daughter of Antonia and Larry Palmisano and sister of Thomas.