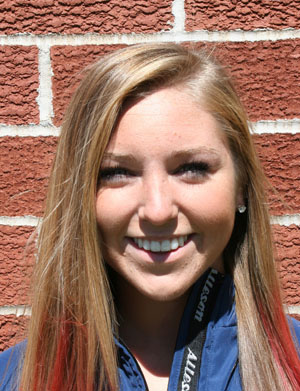 Emily Handrahan
Hometown:
 Hawthorne Woods, Ill.
Position:
 Attack
Number:
 14
Height:
 5-6
High School:
 Lake Zurich
Class:
 Fr.
Major:
 Biology/Pre-Physical Therapy and Business
Bio:
Emily Handrahan, a first year, plays attack. Emily is from Lake Zurich, Illinois, where she attended Lake Zurich High School. She has been playing lacrosse for the past six years. Emily was a captain, MVP,and was voted first team and was All-State her senior year. She held many records including: 4th in state goals, 2nd in state goals per game, and 1st in state caused turnovers. Emily's favorite lacrosse memory is playing in all the tournaments with her travel team.
Emily plans on majoring in Biology/Pre-Physical Therapy and business. Her dream job after college is to have her own physical therapy business specializing with athletic injuries. Emily chose Augustana College because the academics and Coach Tisdale. Her favorite thing about Augie is there is always something to do, her teammates and friends, and the academics. Emily is most looking forward to having fun and winning lacrosse games this year. When Emily isn't playing lacrosse she enjoys shopping online, eating, running, and hanging out with friends.
An interesting fact you may not know about Emily is she is really good at math and science. Emily's favorite food is Mac 'N Cheese and her favorite color is blue. If Emily could have dinner with anyone living or dead she would pick Matt Damen. A super power Emily would like to have is the ability to disappear. Emily's favorite sport to watch during the 2012 London Olympic Games was gymnastics. Emily is scared of spiders and snacks. She is inspired by the people who care about her. Emily is the daughter of Jayne and Greg Handrahan and sister of Mary.