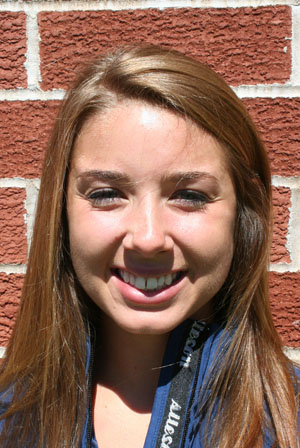 Christina Letmanski*
Hometown:
 Wheaton, Ill.
Position:
 Attack
Number:
 7
Height:
 5-4
High School:
 Glenbard West
Class:
 Soph.
Major:
 Pre-Physical Therapy
Bio:
Christina Letmanski, a second year, plays attack. Tina is from Wheaton, Illinois, where she attended Glenbard West High School and played for Lakeshore and Cool Sticks Lacrosse clubs. She has been playing lacrosse for the past five years. So far, Tina has received MVP, and attack of the year awards. Her favorite lacrosse memory is scoring the game winning goal in double overtime.
Tina plans on majoring in Pre-Physical Therapy. Her dream job after college is to be a Physical Therapist. Tina chose Augustana College because of the scenery and how nice everyone is. Her favorite thing about Augie is how great the science department is. Tina is most looking forward to the spring break trip to California this year. When Tina isn't playing lacrosse she enjoys watching T.V. series on Netflix.
An interesting fact you may not know about Tina is that she used to play ice hockey. In addition, her favorite food is pasta and her favorite color is pink. If Tina could have dinner with anyone living or dead she would pick Channing Tatum. A super power Tina would like to possess is super speed so she would never be late. Tina's favorite sport to watch during the 2012 London Olympic Games was diving. Tina is scared of snakes. She is inspired by her mom because she is the strongest person she knows. Tina is the daughter of Rick and Laura and sibling to Michael, Sara, and Matt.