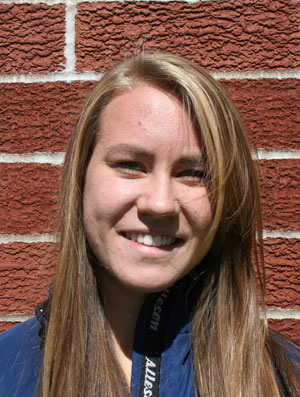 Cori Duncan
Hometown:
 Elmhurst, Ill.
Position:
 Defense-Midfield
Number:
 4
Height:
 5-7
High School:
 York
Class:
 Fr.
Major:
 Nursing
Bio:
Cori Duncan, first year, plays midfield. Cori is from Elmhurst, Illinois, where she attended York Community High School and played for Aviators Lacrosse club. She has played lacrosse for the past four years. So far, Cori has received the2012 Coach's Award and All-Conference Award. Cori's favorite lacrosse memory was playing goalie for the first time in the championship game, where they won by one point in the last seconds.
Cori plans on majoring in Nursing. Her dream job after college is to be a pediatric nurse. She chose Augustana because of the strong academics and the strong lacrosse program. Her favorite thing about Augie is all the welcoming people and the millions of stairs. Cori is most looking forward to getting close to the lacrosse team and meeting new people this year. When Cori isn't playing lacrosse she enjoys rollerblading and crafting.
An interesting fact you may not know about Cori is that she used to be a competitive cheerleader. Cori's favorite food is guacamole and her favorite color is light blue. If Cori could have dinner with anyone living or dead she would pick Morgan Freeman. A super power Cori would like to possess would be super speed. Cori's favorite sport to watch during the 2012 London Olympic Games was swimming. Cori is scared of birds. She is inspired by her aunt Lori because she is always there to support her ambitions in life. Cori is the daughter of Ross Duncan, Christine Duncan, and Donna Dahlke and sister to Meghan, Max, Caitlin, and Keeley McManus.