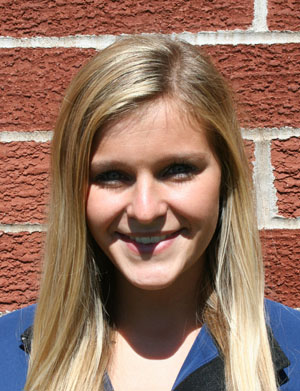 Ryen Merhar
Hometown:
 River Forest, Ill.
Position:
 Attack
Number:
 2
Height:
 5-3
High School:
 Oak Park River Forest
Class:
 Fr.
Major:
 Elementary Education
Bio:
Ryen Merhar, a first year, plays attack. Ryen is from River Forest, Illinois, where she attended Oak Park River Forest High School. She has been playing lacrosse for the past six years. Ryen's favorite lacrosse memory was playing on the North Western Lacrosse field with her high school team.
While attending Augustana College, Ryen plans on majoring in Elementary Education. Her dream job after college is to be a hair and make-up artist in L.A. She chose Augustana because it has everything she was looking for in a college and because of lacrosse. Her favorite thing about Augie is the beautiful campus. Ryen is most looking forward to winning lacrosse games and making amazing new friends. When Ryen isn't playing lacrosse she enjoys working with hair and make-up.
An interesting fact you may not know about Ryen is that she has played piano for eight year. Ryen's favorite foods are pasta and pizza and her favorite color blue. If Ryen could have dinner with anyone living or dead she would pick Iana Del Rey. A super power Ryen would like to possess is the ability to fly. Ryen's favorite sport to watch during the 2012 London Olympic Games was swimming. Ryen is scared of breaking bones. She is inspired by her parents because they are the greatest people she knows. Ryen is the daughter of Julie and Dave Merhar and sister to Abby.