September 16, 2012
Beckus' late goal earns Vikings a tie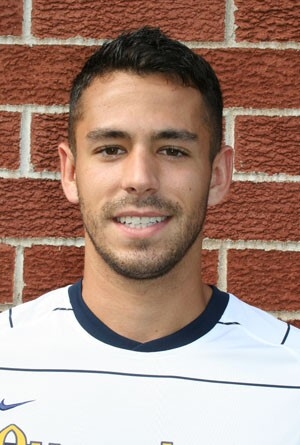 Senior Jason Beckus scored with three seconds left in regulation Sunday to give Augustana a 1-1 tie at Wisconsin-Oshkosh.
OSHKOSH, Wis.-Senior Jason Beckus (Neuqua Valley HS, Naperville, Ill.) scored off a throw-in by freshman Jakob Rettke (Columbia-Rock Bridge HS, Columbia, Mo.) with three seconds left Sunday to give Augustana a 1-1 tie at Wisconsin-Oshkosh. The teams failed to score in either overtime session. The Vikings are now 3-2-1 on the year while the Titans are now 2-1-3.
After more than 87 minutes of scoreless soccer, Ryan Hanna of UW-Oshkosh put the hosts ahead with an unassisted goal from eight yards out, his second of the season. With less than three minutes for Augustana to respond, it looked as though the Titans, who reached the Division III Final Four two years ago, would get the win. However, Rettke was awarded a throw-in with 10 seconds left and Beckus tapped in his first goal of the season with three ticks on the clock to level the score.
Neither team could find the net in two 10-minute overtime periods and the match ended in a tie.
Oshkosh got off four shots in the extra sessions, including two on goal in the first OT. Viking goalkeeper Brett Johnson (Zion-Benton HS, Beach Park, Ill.) stopped them both, recording two of his seven saves on the day. Augustana didn't get a shot off in the extra periods.
The hosts outshot Augustana 12-5 in the match and Beckus' score was just the second shot on goal for the Vikings. The Titans had a 7-5 edge in corners as well. Johnson is now 1-1-1 on the season and he lowered his goals against average to 1.55.
Next up for coach Brenton Joseph's Vikings is a home date against Wisconsin-Whitewater on Wednesday, September 19. That match is scheduled for 7:30 p.m. as the second half of a women's/men's doubleheader at Thorson-Lucken Field.