September 15, 2012
Vikings win four flights at CCIW tournament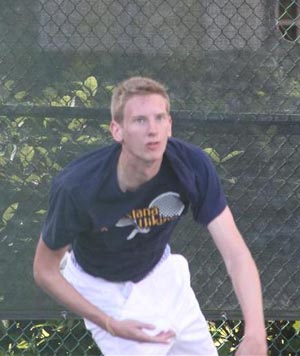 Senior Will Palmer won the number five singles title at the College Conference of Illinois & Wisconsin Fall Tournament, dropping a total of just three games in three matches.
KENOSHA, Wis. - It was a successful weekend for the Augustana men's tennis team at the second annual College Conference of Illinois & Wisconsin Fall Flighted Tournament as the Vikings won four of the nine flights. The tournament, which does not include team scores, was held in Kenosha, Wisconsin on Saturday, September 15 and Sunday, September 16.
Second year head coach Jon Miedema's squad won two of singles divisions and two of the doubles competitions. Senior Will Palmer (Schiller International School, Leicester, England) took the crown at number five, defeating his freshman teammate Austin Schoeck (Rock Island Alleman HS, Rock Island, Ill.) in the championship match by a score of 6-0; 6-0. Palmer advanced to the final with a win over Matchette of Carthage (6-0; 6-0) and Curtis of Carthage (6-2; 6-1) before beating Schoeck. Schoeck won a pair of matches, handling Moon of Carthage (6-1; 6-1) and his fellow freshman Patrick Lenz (Villanova Prep School, Ojai, Calif.) 6-3; 6-4. Lenz beat Curtis for third place (6-0; 6-4).
Augustana freshman John Alexander (Rockford Guilford HS, Loves Park, Ill.) beat Uhen of Carthage 7-5; 6-4 in the championship of number six. He had a bye in the first round and then defeated Jevitz of Carthage 6-1; 6-0 in the semi-finals.
The Vikings won at number two and three doubles as well. Junior Kevin Bayles (Homewood-Flossmoor HS, Homewood, Ill.) and freshman Harald Olsson (Lidingo, Sweden) beat Tanaka and Harrison of Elmhurst 8-3 in the championship match. Bayles and Olsson started things off with an 8-3 victory over Radhakrishnan and Piotrowski of Illinois Wesleyan and then beat Curtis and Howes of Carthage 8-6.
Schoeck and Lenz combined to win the number three doubles title, handling Matchette and Ferruzzi of Carthage 8-1 in the championship match. Schoeck and Lenz had a bye in the first round and then cruised to an 8-1 victory over Klassman and Graves of Carthage in the semi-finals.
Junior Colin Arnold (Sterling HS, Sterling, Ill.) finished second at number two singles. He beat Saini of North Central 6-4; 6-3 in the opening round and then won 6-3; 1-6; 10-6 over Tanaka of Elmhurst in the semi-finals. He lost to Jump of Carthage 7-5; 7-6 in the championship.
Senior Jack Cullen (Edgewood HS, Madison, Wis.) took second at number three, dropping a 6-1; 6-2 decision to Jennings of Elmhurst in the championship. Cullen beat Guenther of Illinois Wesleyan 6-1; 7-5; 10-7 and Noble of Elmhurst 5-2, retired in the semi-finals.
Olsson took second at number four singles, losing 6-1; 6-3 to Harrison of Elmhurst in the title match. He beat Rufino of Illinois Wesleyan 6-3; 6-4 and Condie of Elmhurst 6-0; 7-5 en route to his spot in the championship.
Augustana's number one doubles team of Arnold and junior Andy Wall (Notre Dame Academy, DePere, Wis.) finished second. They lost to Sorich and Kenega of Illinois Wesleyan 9-7 for first place. Arnold and Wall beat Alex and Guenther of Illinois Wesleyan 9-7 and Harbert and Jung of Elmhurst 8-6 to reach the title match.