September 15, 2012
Augustana goes 4-0 at Alverno Classic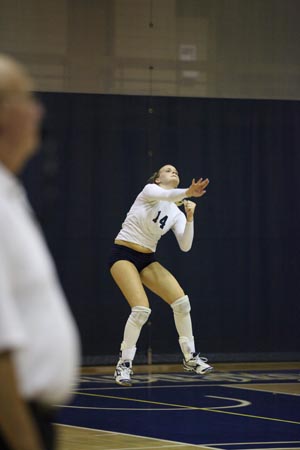 Sophomore outside hitter Emily Leazer had a big weekend, helping Augustana to four straight wins at the Alverno Classic and earning tournament Most Valuable Player honors.
MILWAUKEE, Wis.-Behind MVP Emily Leazer (St. Viator HS, Mt. Prospect, Ill.) and all-tournament selection Sarah Williams (Rockford Lutheran HS, Loves Park, Ill.), the Augustana volleyball team defeated Beloit twice Saturday to win the Alverno Classic. The Vikings went 4-0 on the weekend and are now 9-2 this season.
Augustana 3, Beloit 0 (25-10; 25-18; 25-14)
Leazer recorded 14 kills, seven digs and six service aces as the Vikings won 25-10, 25-18 and 25-14 in the teams' first meeting of the day. Sophomore Dory Dudley (Tremont HS, Tremont, Ill.) added eight kills and Williams six. Freshman setter Jordan Hampel (Hilliard Davidson HS, Hilliard, Ohio) led the way with 18 assists and had eight digs and four aces as well. Freshman libero Kylie Siebert (Kaneland HS, Sugar Grove, Ill.) had six assists and a team-high nine digs.
The Buccaneers jumped out to a 5-3 lead in the opening set, but it was all Augustana after that as the Vikings won 22 of the last 27 points to post a 25-10 win. Williams finished off the set with kills on three of the last four points.
Leazer was back at it in set two, giving the Vikings a 3-0 lead with a kill and two aces. Beloit stayed close, however, until a Leazer kill and two by Williams, sandwiched around a Samantha Kammerman (Sherrard HS, Milan, Ill.) ace, put Augustana up 21-16.
Hampel started the third set with an ace and later served five straight points to stretch the Viking lead to 19-7. Junior Morgan Stittleburg (Black River Falls HS, Black River Falls, Wis.) closed out the match with a kill off a Katrina Colclasure (Tri-Valley HS, Bloomington, Ill.) set.
Augustana 3, Beloit 0 (25-14; 25-18; 25-16)
In the championship match, Augustana fell behind early before taking its first lead of the opening set at 11-10 on a Leazer kill. The Vikings built an 18-14 lead and then won the last seven points with Colclasure serving. The junior had three aces in the run including the set's final point.
Augustana jumped in front 6-1 in the second set. The Buccaneers hung tough and got to within two points at 14-12 and 15-13 before the Vikings pulled away for the win. A Siebert service ace ended the set.
Back-to-back kills by Leazer and Dudley staked Augustana to a 5-1 lead in the third set. After Beloit cut it to 6-3, kills by freshman Martha Murray, Kammerman and Stittleburg and a Colclasure ace extended the Viking advantage to 10-3. The Buccaneers wouldn't get closer than six points the rest of the way. Fittingly, a pair of kills by Leazer ended the match.
Leazer had a dozen kills in the championship match. She earned tournament MVP honors with a total of 42 kills, 28 digs and 24 service aces in four weekend matches. Williams had 24 kills and a team-high seven blocks in the tournament. Hampel led Augustana with 16 assists in the title match and Siebert had a team-best 17 digs.
The Vikings jump back into CCIW play on Wednesday, September 19 when they host Illinois Wesleyan in a 7:00 p.m. match at Carver Center.