September 15, 2012
Vikings win home opener 34-10 over Loras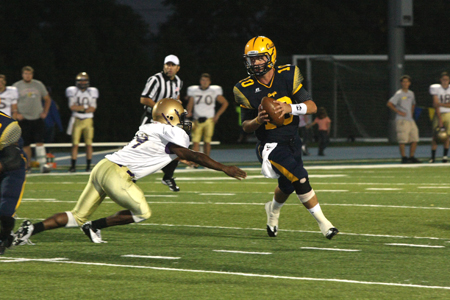 Senior quarterback Nick Welch threw for 347 yards and three touchdowns Saturday as Augustana won its 2012 season opener 34-10 over Loras at Ericson Field.
ROCK ISLAND, Ill.-Senior quarterback Nick Welch (Oswego HS, Oswego, Ill.) completed 18 of 22 passes for 347 yards and three touchdowns Saturday night as Augustana won its 2012 home opener 34-10 over Loras at Ericson Field. The win moves the Vikings to 1-2 on the season, while Loras falls to 1-2.
Augustana led 7-0 at the end of the first quarter despite running just two plays and possessing the ball for 1:16 in the opening period. Loras took the opening kickoff and drove from its own 27-yard line to the Viking 20, but completed a pass for only 10 yards on fourth-and-12, turning possession over to the hosts. After a two-yard keeper on first down, Welch found junior Nick Krantz (Moline HS, Moline, Ill.) behind the Duhawk secondary for a 78-yard touchdown pass and a 7-0 Viking lead.
Loras took over at its own 23 after the ensuing kickoff and put together another good march, going 76 yards in 15 plays and eating up the rest of the first quarter clock. However, Augustana linebacker Erik Westerberg (York HS, Elmhurst, Ill.) stuffed Duhawk runner Nate Carrier on fourth-and-goal from the Viking one on the second play of the second quarter. The Augustana offense went right back to work, with Welch sandwiching completions to Krantz of 13 and 19 yards around a 21-yard option keeper to get into Duhawk territory. Senior running back Brett McWilliams (Hononegah HS, Roscoe, Ill.) took care of things from there, busting off a 46-yard touchdown run to put the Vikings up 14-0 with 12 minutes left in the second quarter.
After the teams traded three-and-outs, another long Loras drive came up empty when Tyler Wilker's 33-yard field goal attempt went wide left. Augustana responded with a 75-yard, 10-play march that used all but the final three seconds of the half. Sophomore Brady Rogers (Cherokee Trail HS, Parker, Colo.) knocked through a 22-yard field goal to cap the drive and make it 17-0 at the break.
After having just over seven minutes of possession time in the opening 30 minutes, the Vikings held the ball almost 10 minutes in the third period. They were productive as well, scoring a pair of touchdowns to effectively put the contest out of reach. They took the second half kick and went 52 yard in 11 plays for the first score. They reached the Duhawk six-yard line before an eight yard loss and a pair of penalties left them in third-and-goal from the Loras 24. However, Welch calmly found sophomore Torre Harrell (Bloomington HS, Bloomington, Ill.) on a post pattern for the touchdown and a 24-0 lead. Welch later hit junior Kyle Snow (Wheaton Warrenville South HS, Wheaton, Ill.) with a 1-yard shovel pass to put the hosts up 31-0. That capped a four-play, 54-yard march keyed by a 41-yard Welch to Krantz completion.
Wilker finally got the Duhawks on the board early in the fourth with a 28-yard field goal that capped a seven-play, 60-yard drive. A Rogers 38-yard field goal put Augustana on top 34-3 before Loras took advantage of a Viking fumble to score their lone touchdown. Carrier went in from two yards out to complete a 25-yard drive. He finished the night with 162 yards on 31 carries.
Krantz ended up with six catches for 170 yards. McWilliams led the Vikings ground attack with 85 yards on 11 carries. Augustana wound up with 483 yards of total offense in the game. Westerberg led the Vikings in tackles for the third straight game, recording 10 solo, a pair of assists and two for loss. Sophomore safety Bo Goshorn (Romeoville HS, Romeoville, Ill.) was in on nine stops.
Coach Rob Cushman's Vikings will be idle next week before opening College Conference of Illinois & Wisconsin play on September 29 against Wheaton. Kickoff is scheduled for 1:00 p.m. at Ericson Field.