September 14, 2012
19th ranked Vikings take fifth at Illinois Intercollegiates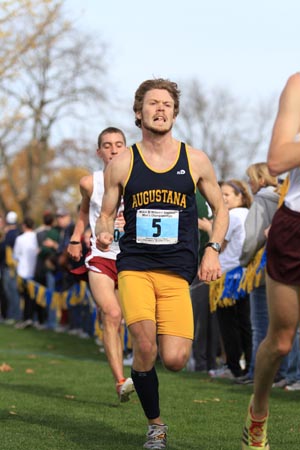 Senior Jonathan Smith turned in a 14th place performance for the 19th ranked Vikings as they placed fifth in the 36 team Illinois Intercollegiate Championships on Friday, September 14 in Normal, Illinois.
NORMAL, Illinois - In the first major test of the 2012 men's cross country season, 19th ranked Augustana passed with flying colors. The Vikings turned in an impressive outing at the Illinois Intercollegiate Championships on Friday, September 14 at Weibring Golf Course in Normal, Illinois with a fifth place finish.
Facing a field of 36 teams, including six NCAA Division I schools and two ranked NCAA Division III teams, veteran head coach Paul Olsen's team took fifth with 155 points. North Central, the number one ranked team in NCAA Division III and Loyola, an NCAA Division I unit, tied for first with 62 points. NAIA scholarship power St. Francis was third with 96 and Illinois, out of the Big 10, placed fourth with 148, just seven points ahead of the Vikings. The University of Chicago, which was ranked 11th in NCAA Division III this week, was sixth with 166 while next four team finishers were all NCAA Division I schools. Eastern Illinois (180), Illinois-Chicago (215), Bradley (220) and Illinois State (289) rounded out the top 10.
Senior Jonathan Smith (Moline HS, Moline, Ill.) led the Augustana attack with a 14th place finish and a time of 24:51 over the 8,000 meter layout on the Weibring Golf Course. Sam Penzenstadler of Loyola won the individual title with a time of 24:24, just one second ahead of Ryan Rutherford of host Illinois State.
Senior Brian Pollastrini (York HS, Elmhurst, Ill.) was the second finisher for the Vikings with a time of 25:13 in 29th place. Senior Justin Smith (Fenton HS, Bensenville, Ill.) was 41st in 25:24 and freshman Keith Sands (United Township HS, Silvis, Ill.) took 50th in 25:33. Sophomore Nick Gornick (York HS, Elmhurst, Ill.) was the fifth man for Augustana in 57th place with a time of 25:44. There was just a 53 second gap between Augustana's first and fifth finisher on Friday.
Senior Nathan Smith (Fenton HS, Bensenville, Ill.) placed 60th in 25:48 and junior Tyler Busch (Winnebago HS, Winnebago, Ill.) was 74th in 25:55.
Augustana will host the Brissman-Lundeen Invitational on Friday, September 21 at Saukie Golf Course in Rock Island, Illinois with over 30 teams expected to compete.