September 14, 2012
Augustana 2-0 at Alverno Classic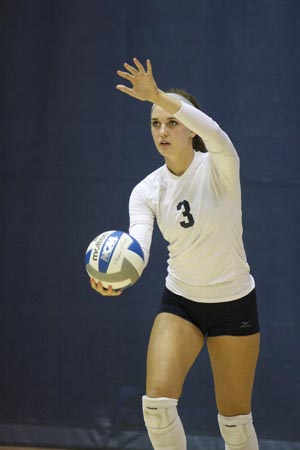 Sophomore setter Stephanie Petkovsek had 24 assists Friday as Augustana defeated Knox and Alverno in straight sets at the Alverno Classic.
MILWAUKEE, Wis.-Augustana defeated both Knox and Alverno in straight sets Friday on the first day of the Alverno Classic. Now 7-2 on the year, coach Jamie Walters' Vikings face Beloit at noon Saturday with a chance to advance to the 4:00 p.m. championship game. Augustana was the only one of the four participants to go 2-0 on Friday.
Augustana 3, Knox 0 (25-16; 25-16; 25-11)
The Vikings opened tournament play by handling Knox in straight sets. Augustana led wire-to-wire in a 25-16 opening-set win. Back-to-back kills by Dory Dudley (Tremont HS, Tremont, Ill.) put the Vikings up 5-1. They later scored six of seven points to take a 13-5 lead. The Prairie Fire got as close as 15-11, before five straight points, including four with freshman Kylie Siebert (Kaneland HS, Maple Park, Ill.) serving, put Augustana up 20-11. A pair of Emily Leazer (St. Viator HS, Mt. Prospect, Ill.) kills and one by Samantha Kammerman (Sherrard HS, Milan, Ill.) finished off the set.
Knox took an early lead in set two, but the Vikings won seven straight points, six with Kammerman serving, to go from down 8-6 to up 13-8. The Prairie Fire never got closer than three points the rest of the way. An ace and kill from Kammerman got Augustana to set point at 24-16 and a Leazer kill finished it off with the help of a Katrina Colclasure (Tri-Valley HS, Bloomington, Ill.) set.
Knox took another 3-1 lead in the third set before a pair of Leazer aces and two more points with her serving put the Vikings up 6-3. The teams then traded the next 10 points, giving Augustana an11-8 lead. Leading 13-9, the Vikings won 10 consecutive points with Leazer serving to go up 23-9. The sophomore has six aces in the run. A kill from Dudley closed out the set and match.
Freshman Martha Murray (Evanston Township HS, Evanston, Ill.) had match-highs of a dozen kills and nine digs. Dudley had 11 kills and Leazer eight, to go along with eight aces, all of which came in the final set. Leazer and Siebert each had six digs. Colclasure led the way with 15 assists and sophomore Stephanie Petkovsek (Lisle HS, Lisle, Ill.) added 14.
Augustana 3, Alverno 0 (25-10; 25-13; 25-21)
After tying the third-highest single match ace total in school history against Knox, Leazer went one better in the evening match, tying the school record with nine aces against Alverno. She also had eight kills and a team-high 10 digs. Senior Sarah Williams (Rockford Lutheran HS, Loves Park, Ill.) had a team-best 10 kills. Dudley and Murray added a half-dozen kills each. Freshman Jordan Hampel (Hilliard Davidson HS, Hilliard, Ohio) led with 14 assists, while Colclasure and Petkovsek each had 10.
A Leazer kill opened the first set and then Augustana won six consecutive points with her serving, including a pair of aces, to take a 7-0 lead. After the teams traded service errors, it was Siebert's turn and she served six straight Viking points as well, also notching a pair of aces, as Augustana went up 14-1. After the Inferno got to within 22-10, a Williams kill and two more Leazer aces ended the set.
After Alverno took the first point of the second set, a Williams kill evened the score and brought Leazer up to serve. She responded with four consecutive aces and five points total to give the visitors a 6-1 lead. The Inferno got as close as 6-4 before the Vikings went on a 5-0 run keyed by a pair of Murray kills. The hosts would get no closer than five points the rest of the way. Petkovsek closed out the set with a service ace of her own.
Augustana took the first four points of set three, but Alverno came back to tie it at 5-5 and it was close the rest of the way. It was tied 21-21 before the Vikings won the final four points, the last three with Petkovsek serving.