September 13, 2012
Augustana third and fifth at Monmouth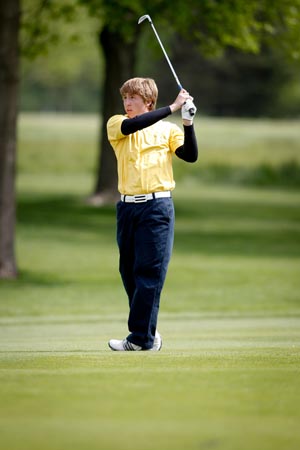 Sophomore Jake Groselak tied for fourth place with a 77 Thursday at the Scot-Fire-Viking Classic in Monmouth, Illinois.
MONMOUTH, Ill.-Sophomore Jake Groselak (Lemont HS, Lemont, Ill.) had Augustana's best individual round Thursday, shooting a 77 at the Scot-Fire-Viking Classic hosted by Monmouth College. The Viking "Gold" team, paced by matching 78's from sophomore Grant Murphy (Dunlap HS, Peoria, Ill.) and senior Jeff Paustian (Geneva HS, Geneva, Ill.), finished third in the six-team field. Groselak's "Blue" team was fifth.
A pair of Monmouth outfits claimed the top two spots in the team standings, with collective rounds of 306 and 310. The Scots' winning "Red" team was led by individual medalist Britt Bothast, who carded a 74. After Augustana "Gold" (314), a third Monmouth team shot 321 for fourth place, followed by coach Paul Del Vecchio's "Blue" squad (330) and Knox (346).
Murphy and Paustian finished in a tie for eighth individually. Joining them on the "Gold" unit were freshmen David Ferlmann (Peoria Notre Dame HS, Dunlap, Ill.) and Alex Walter (Camp Point Central HS, Camp Point, Ill.), who each shot 79 to tie for 13th, and junior Dave Cook (United Township HS, Silvis, Ill.), who tied for 16th with an 80.
In addition to Groselak, who tied for fourth in the individual standings, the "Blue" team included sophomore Max Channon (Wheaton Warrenville South HS, Wheaton, Ill.) and freshman Kody Damewood (Monmouth-Roseville HS, Monmouth, Ill.), who shot 81 and 85, respectively, to finish 19th and 24th. Sophomore Josh Kukla (Zion Benton HS, Winthrop Harbor, Ill.) and junior John Stone (Rockridge HS, Reynolds, Ill.) each fired an 87, tying for 26th place.
Next weekend, the Vikings will play in the two-round Dubuque Fall Invite in Dubuque, Iowa. Tee-off at Dubuque Country Club is scheduled for 10:00 a.m. on both Saturday, September 22 and Sunday, September 23.