September 13, 2012
Vikings fifth at Carthage Fall Invitational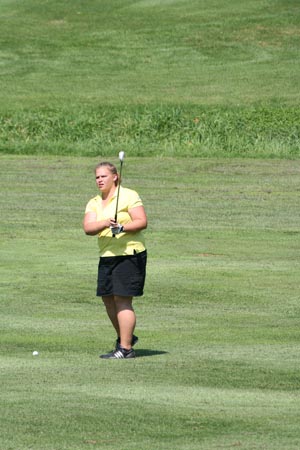 Senior Morgan Wilkinson's eighth-place round of 89 paced Augustana at Thursday's Carthage Fall Invitational in Racine, Wisconsin. The Vikings finished fifth in the seven-team field.
RACINE, Wis.-Senior Morgan Wilkinson (Westmont HS, Westmont, Ill.) fired an 89 Thursday to finish tied for eighth at the Carthage Fall Invitational. Her performance helped Augustana to a fifth-place finish in the seven-team event.
Behind individual medalist Heidi Chronowski, Carthage's top team shot a collective 345 to win the event, 14 strokes better than second-place North Central. Chronowski's round of 80, in unseasonably cool conditions, was six strokes better than anyone else in the field. A second Carthage team took third with a score of 372, followed by Wheaton (377), Augustana (378), Elmhurst (388) and Benedictine, which did not finish.
Behind Wilkinson, coach Augustana Ron Standley got matching 96's from freshman Samantha Barlage (Marian Catholic HS, Lansing, Ill.) and senior Megan Vandersee (Sterling HS, Sterling, Ill.). The pair finished in a tie for 17th. Rounding out the Viking varsity contingent were juniors Dena Capitani (Hinsdale Central HS, Hinsdale, Ill.), who carded a 21st-place 97, and Jamie Lawrence (Moline HS, Moline, Ill.), whose round of 106 put her in a tie for 32nd place.
Augustana freshman Michelle Dempster (Mother McAuley HS, Oak Lawn, Ill.), who was not included in the varsity five, matched the 96 posted by Barlage and Vandersee.
This weekend, the Vikings are in action at the Benedictine Invitational in West Chicago, Illinois. The two-day event starts Saturday and concludes on Sunday, September 16. Both rounds are scheduled for a 10:00 a.m. tee-off.