September 13, 2012
15th-ranked Vikings improve to 5-0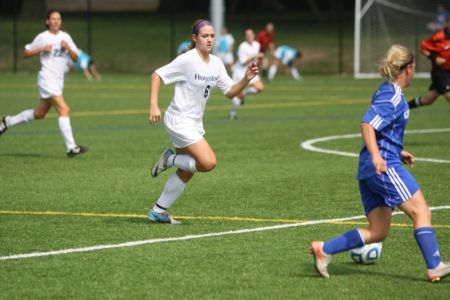 Sophomore Kimberly Grimmer scored her first career goal Thursday night in Dubuque. The 15th-ranked Vikings defeated the Spartans 3-0 to improve to 5-0 on the year.
DUBUQUE, Iowa-Coach Scott Mejia's 15th-ranked Augustana soccer team remained undefeated with a 3-0 win at Dubuque Thursday night. The Vikings move to 5-0 on the year while the Spartans drop to 2-2-1.
Freshman Somer Druszkowski (Lincoln-Way Central, Manhattan, Ill.) got the scoring started with a goal in the 27th minute. It was Druszkowski's first collegiate goal and she received an assist from classmate Kelly Farell (St. Ursala Academy, Sylvania, Ohio) on the play.
In the 39th minute, it was sophomore Kimberly Grimmer (Downers Grove South HS, Woodridge, Ill.) scoring her first career goal, bouncing one in off the post past Dubuque keeper Chelsea Hawkins. Senior Amanda Tucker (Crete-Monee HS, Crete, Ill.) was credited with the assist.
Senior Morgan Olsen (Downers Grove North HS, Woodridge, Ill.) capped the scoring when she scored her second goal of the season on a free kick in the 72nd minute.
The Viking defense in front of freshman goalkeeper Meredith Chew (Paradise Valley HS, Phoenix, Ariz.) was rock solid. Led by Olsen, senior Kirsten Boesen (Normal West HS, Gibson City, Ill.) and sophomore Kerri Skotnicki (Waubonsie Valley HS, Aurora, Ill.), it allowed just five Spartan shots in the match, none of which were on goal. Neither Chew, the reigning CCIW Player of the Week, or backup Bridget McDermott (Prospect HS, Mt. Prospect, Ill.) was required to make a save.
Augustana had an 8-5 edge in shots, including 5-0 in shots on goal. The hosts had a 6-1 advantage in corners.
The Vikings will try to keep their season-opening winning streak alive on Wednesday, September 19, when they host Wisconsin-Whitewater. That match is scheduled for 5:00 p.m. and will be part of a women's/men's doubleheader versus the Warhawks.