September 13, 2012
McSpadden scores twice in Viking win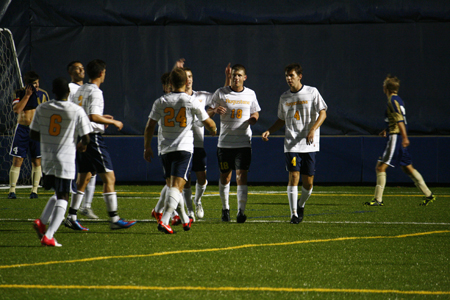 Augustana celebrates its first goal Thursday night against Principia. It came on a header by John McSpadden (18) off a Michael Buric (24) throw-in. The Vikings went on t o a 2-0 win at Thorson-Lucken Field.
ROCK ISLAND, Ill. - Junior John McSpadden (Geneva HS, Geneva, Ill.) scored both Augustana goals Thursday night as the Vikings defeated Principia 2-0 at Thorson-Lucken Field. The win pushes the team over .500 on the year at 3-2. The Panthers fall to 0-6.
McSpadden put Augustana on the board in the ninth minute, heading in a beautiful throw-in by junior Michael Buric (Notre Dame Prep, Scottsdale, Ariz.) for his first goal of the season. The hosts kept the pressure on, peppering Principia with three corners in less than a minute at one point, but couldn't find the back of the net again until the 30th minute. McSpadden converted a feed from sophomore Adam Bengfort (Assumption HS, Davenport, Iowa) to put the Vikings on top 2-0. That's the way the first half would end with Augustana coach Brenton Joseph substituting liberally late in the period.
In the second half, the Vikings outshot the visitors by a 6-5 margin, but while they put just one of those half dozen shots on goal, the Panthers tested Augustana keeper Brett Johnson (Zion Benton HS, Beach Park, Ill.) with all five of their shots. The sophomore was up to the task, stopping all five to preserve the win.
Johnson went the distance, recording his first shutout of the year and evening his record at 1-1.
For the game, the Vikings outshot Principia 12-10, although the Panthers had a 5-4 edge in shots on goal. Augustana finished with a 5-4 advantage in corners.
The Vikings will hit the road for a Sunday, September 16 match at Wisconsin-Oshkosh. That contest is scheduled for a 1:00 p.m. start.