Three Items on the Theme of Collection
Welcome to the sixth year of Acknowledge. This year's monthly newsletter for employees will have some longstanding features, such as Field Notes and Seen & Heard, and some new elements: above, note an updated design for the masthead, and below, a story called Working the Plan, which will introduce you to a campus employee helping to meet the strategic goals of Affirm, Assure and Assess. You also can now peruse the Acknowledge archives (with some kinks) in the communication and marketing site off the homepage.
Speaking of new features, not to mention archives, have you tried the mechanical shelving units on the first floor of the library? They're easy to use, but to show you how and reassure you they do not trap browsers, watch this video. It was created by the librarians and Isaac Lauritsen '14, an original member of the new Augustana Video Bureau. Like the Augustana Photo Bureau, the video bureau is a group of students who work for communication and marketing and help capture college life through a lens.
And speaking of that, we would like your assistance with a special project. Throughout this year, we want to take photos of alphabet letters spotted around campus—not literal letters from signs or engravings, but a bridge that looks like an H, or a Y-shaped tree. Perhaps you notice a letter during your walk to work? Maybe there is one in your classroom, in a painting, out the window, or appearing only a certain time of year?
If you see an image comprising a letter of the alphabet, please contact Drew Barnes '14 or Marla Alvarado Neuerburg, and they will send a photographer to snap the photo. Some of us in admissions and communication and marketing would like to put together a collection of Augie ABCs. Even if one letter isn't recognizably Augustana, an entire word formed of such details could portray an intimate slice of campus for prospective students, families and alumni.
Working the Plan: Meet Ben Vallejo
Strategic Imperative 3: Enhance our campus
Visitors to Zion Hill this summer have doubtless met Ben Vallejo. From his station on the southern end of Seminary Hall, the college's unofficial ambassador greets passersby with a smile and a warm hello from atop his lift, decked out in layers of protective gear. A native of East Moline and a member of the Bricklayers Union since he was 18, Ben joined the facilities team in early May, and spent the better part of this summer tuckpointing the southern facades of Seminary Hall.
"I take great pride in the restoration work I do and in seeing the original beauty of a building restored," Ben said.
Tuckpointing involves grinding the old mortar in the joints between bricks, followed by the application of new mortar to seal the joint. His efforts will prevent moisture seepage that eventually could undermine the structural integrity of the brick facade.
The Seminary Hall project is not his first at Augustana. Ben was a member of the team that built the Thomas Tredway Library back in 1990.
Affirm, Assure and Assess is a strategic plan designed to address real challenges, assess our actions and measure the effectiveness of our efforts. The eight strategic imperatives identified by a strategic planning task force in 2010 form the building blocks of a plan that focuses on proactive solutions and measurable outcomes.
Field Notes
For this first issue of the academic year, biology professor Dr. Kevin Geedey sent notes about students' search for endangered mussels in the Mississippi River in August. See also his Field Notes from October 2006, our first issue.
One of the best things about ecology is the opportunity it affords to renew a sense of wonder in the places we pass every day. In August, I took three seniors (Alex Killion, Ellen Loechner and George Papandreou) upriver to Cordova, where we participated in the annual mussel "roundup" under the direction of U.S. Fish and Wildlife officials. The objective was to locate live individuals of endangered species to be used for propagation and reintroduction programs.
Mussels are some of the most endangered animals in North America. Of the roughly 80 species once found in the Mississippi River, only about 40 remain, and many of these are endangered.
"Pollywogging" for mussels is a treat too few have experienced. The water is murky, so one must rely on touch. Our group waded in and began crawling along, feeling through the mud and sand. Boaters gawked at the biologists bobbing up and down in the river in our life jackets like a congregation of odd shorebirds.
It takes some time to get good at finding mussels. At first, one excitedly pulls up any solid object encountered, only to be disappointed to be holding a vaguely mussel-shaped stone. After a short while, though, your hands become educated and soon enough your collecting bag fills with mussels. Each mussel clamps shut when you pull it up, so its brief entry into terrestrial affairs is harmless. Every time we brought one up we identified it and returned it to its bed if it wasn't one of the endangered species that we sought. Soon our list of species collected started to grow, from the ubiquitous Three Ridge, and Pimplebacks, to the rarer Black Sandshells and the endangered Higgins Eye Mussels.
It is difficult to hold a member of an endangered species in the palm of your hand. Not because they might get away (mussels are not adept at escape), but because the population is going away. Holding one gives you a particular sense of what stands to be lost. Mussel beds are critical to the river's health, since live mussels filter the water and their empty shells provide habitat for other animals. Diverse and beautiful creatures live there, in the river just off shore. They are worth getting to know. Next August, why don't you join us at the mussel roundup and learn to pollywog?
New Faces on Campus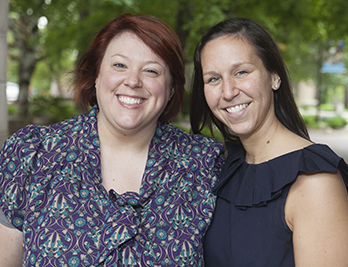 Courtney Wallace (left)
Director of Admissions–Chicago Region
B.S., speech communication, Southern Illinois University Carbondale
Jenna Muench (right)
Assistant Director of Admissions–Chicago Region
B.A., sociology and psychology, St. Ambrose University
M.A., sociology, Roosevelt University
Meet Courtney Wallace and Jenna Muench, the dynamic duo directing Augustana's student recruitment in the Chicago area. Courtney originally is from Galva, about an hour southeast of the Quad Cities, and Jenna hails from Davenport, so both are familiar with Augustana's academic reputation.
"We are honored to represent Augustana, and we look forward to returning to campus about once a month to visit with faculty and students so we can convey the story of Augustana to prospective students," Courtney said.
A new office in Lombard will be ready in three to four weeks. Until then, Courtney and Jenna will work out of their homes and their cars. As a regional admissions counselor representing Missouri University of Science and Technology in Chicagoland for almost nine years, Courtney is used to that.
Courtney lives in Oak Park with Poodini, her Jack Russell Terrier who is currently staying at a PetSmart PetsHotel while Courtney is on campus this week. Poodini (rhymes with Houdini) is no stranger to PetsHotel or Courtney's parents' home because Courtney is a traveler. She has made several one-month trips to India and Asia in recent years to recruit students for Missouri S&T.
Working for an institution that's equally well known for its academics… but one that attracts more diverse students in terms of interests is appealing to Courtney. "S&T students are so serious," she said. "I always felt like I had to dial back my personality so I wouldn't scare them."
Courtney's travels have fed her passion for beading. She has collected beads from various countries and enjoys making jewelry, when she has time.
Jenna's passion is running, and she is proud to have completed her first Bix this past summer. As a former graduate programs specialist for Concordia University Chicago, she worked as an adviser to students. She lives in Villa Park with her husband, Ethan, and they enjoy attending concerts in small venues.
Both Courtney and Jenna joke that they hope we in Rock Island don't forget about them because they are based in Lombard. If anyone has a story to share, just remember… they are only an email away.
From the Cabinet
President of the College Steve Bahls
Among the many images from a summer spent in the far north, one that remains stark in my memory is that of a Haida Watchman named Doug. The Haida are a once-numerous people of Canada's Pacific coast whose way of life was nearly wiped out when Europeans arrived to "civilize" them. As one of Canada's First Nations, the Haida have reclaimed much of their ancestral land.
Today some members of the Haida people are called to be Watchmen, guardians of the uninhabited Haida villages of generations past. Their job is to interpret Haida history and culture to visitors, while limiting the access of outsiders. This they do while enforcing a line of clam shells that demarcates public areas of the Haida Gwaii (or "Islands of the People") from the protected places where artifacts can be seen, but not touched.
My image of Doug has him straddling the clam shell line: a young man in a New York Yankees cap telling us about the sacred imagery on a century-old mortuary pole. When Doug shared that he wanted to be a carver, I asked if he would carve the ravens, eagles and orcas so prevalent in Haida imagery. His response surprised me. He said his generation should honor traditional carving, but fashion contemporary Haida artwork or their own.
I wondered what the elders thought of that attitude: didn't they prefer their culture to be immutable? But then I recalled another Haida tradition. When mortuary poles and other artifacts decay, they are not preserved, but allowed to fall to the earth and decompose, enriching the soil for future growth. It's a poignant and beautiful acceptance of life's circle.
Doug straddles the clam shell line, and his culture is the stronger for it. It's an image I hope to hold close not just now, but in the years to come.
Seen & Heard
Him: "OK, that's done."
Her: "You took the rack out of the rotisserie?"
Him: "Oh dear God, I thought you said 'put the cat out of its misery!'"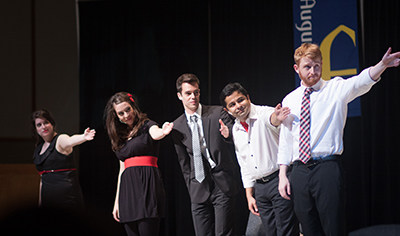 Members of the road show for Chicago's legendary Second City comedy theatre troupe presented "Laughing Matters" in Centennial Hall on Saturday, September 8.
Acknowledge is published by the Office of Communication and Marketing at Augustana College in Rock Island, Illinois. Contact Beth Roberts, editor. Photos in this issue were contributed by Dr. Kevin Geedey, Marla Alvarado Neuerburg, Shelbi Ummel '15, and Drew Barnes '14 and Long Nguyen '16 of the Augustana Photo Bureau.