September 13, 2012
Vikings now ranked 19th in NCAA Cross Country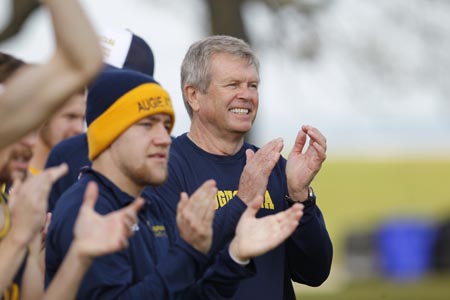 Veteran head coach Paul Olsen has his Vikings are currently ranked 19th in NCAA Division III.
NEW ORLEANS, La. — The Augustana men's cross country team dropped one spot in the NCAA Division III national rankings from the pre-season, falling from 18 th to 19 th. Veteran head coach Paul Olsen's team did not compete last week and have been involved in just one meet so far, finishing second in the Western Illinois Invitational on Friday, August 31 in Macomb, Illinois.
The Vikings are one of six teams from the Midwest Regional ranked in the top 20 in this poll, which is conducted by the US Track & Field/Cross Country Coaches Association. Augustana will get a legitimate test this Friday, September 14 at the Illinois Intercollegiate Championship in Normal, Illinois.
2011 USTFCCCA MEN'S CROSS COUNTRY POLL (Week #1)
| | | | | |
| --- | --- | --- | --- | --- |
| Rank | School (1st place votes) | Pts | Region | LAST |
| 1 | North Central (Ill.) (8) | 280 | Midwest | 1 |
| 2 | Haverford | 271 | Mideast | 2 |
| 3 | Washington (Mo.) | 259 | Midwest | 4 |
| 4 | SUNY-Geneseo | 257 | Atlantic | 3 |
| 5 | Bates | 237 | Northeast | 8 |
| 6 | Calvin | 236 | Great Lakes | 7 |
| 7 (tie) | Wheaton (Ill.) | 234 | Midwest | 5 |
| 7 (tie) | Tufts | 234 | New England | 6 |
| 9 | SUNY-Cortland | 214 | Atlantic | 11 |
| 10 | Middlebury | 206 | Northeast | 9 |
| 11 | Chicago | 200 | Midwest | NR |
| 12 | NYU | 186 | Atlantic | 12 |
| 13 | Wisconsin-LaCrosse | 180 | Midwest | 9 |
| 14 | Williams | 178 | Northeast | 13 |
| 15 | Allegheny | 162 | Mideast | 15 |
| 16 | St. Olaf | 159 | Central | 14 |
| 17 | Wabash | 143 | Great Lakes | 17 |
| 18 | Loras | 139 | Central | 16 |
| 19 | AUGUSTANA | 120 | Midwest | 18 |
| 20 | Rochester | 119 | Atlantic | 25 |