September 12, 2012
Panko triumph clinches win over Carthage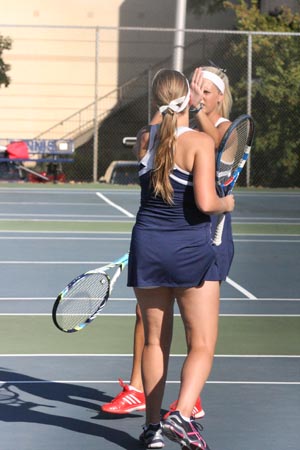 Meghan Wethington (left) and Krista Panko celebrate during a win at number three singles over Carthage on Wednesday, September 12. Panko later clinched the 5-4 win over the Lady Reds with a win at number three singles.
ROCK ISLAND, Ill. - A little more than a week after she joined the 100 victory club, senior Krista Panko (Geneva HS, Geneva, Ill.) came up with a huge three set victory to help lift Augustana to a 5-4 victory over Carthage on Wednesday, September 12 at the Lower Campus Courts. Panko defeated the Lady Reds' Erin Hendrickson at number three singles to break a 4-4 team score.
Augustana has now defeated Carthage three times in the last four meetings after losing 12 matches in a row to the Lady Reds from 1998 through 2009. The Vikings are now 5-1 overall and 4-0 in the College Conference of Illinois & Wisconsin.
Panko had quite a day as she teamed with fellow senior Meghan Wethington (Geneseo HS, Geneseo, Ill.) to pick up Augustana's lone victory in doubles. Panko and Wethington beat Kirsten Peterson and Holly Weber 8-2 to move their record to 6-0 on the season.
Panko was the last player on the court in singles and the match was tied 4-4 with the victor between Panko and Hendrickson deciding the team victory. Panko lost the first set 2-6 but bounced back with 6-3 and 6-1 wins to secure the win for the Vikings. Panko is now 5-4 in singles play.
Junior Kim Sawyer (Batavia HS, Batavia, Ill.), also a recent member of the 100-victory club, defeated Bari Reynolds 6-3; 6-2 at number one singles. Freshman Aileen MacDonald (Mundelein HS, Mundelein, Ill.) beat Abbi Howell 6-2; 6-4 at number four singles and junior Mariah Bardo (Sterling HS, Sterling, Ill.) beat Kirsten Peterson at number five by a score of 6-4; 6-4.
The Vikings will host Elmhurst at 9:30 a.m. on Saturday, September 15 in a CCIW match and then face Upper Iowa at 2:00 p.m. later that afternoon in a non-conference match.