Assistant Coaches
GREG MARTIN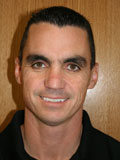 Greg Martin joins the Augustana wrestling staff in 2008-09 for his first year as an assistant coach. Martin coached in the Lost Nation/DeWitt, Iowa school system from 1999-01 where he also taught math and business. He has extensive experience in various forms of education. He worked for the Jackson County (Iowa) AmeriCorps Conservation Corps as a volunteer coordinator for one year from 2001-02 and was the after school coordinator for Maquoketa Middle School in 2003.
He owned his own business (Martin Landscape) for 10 years from 1990-00. He is currently a sales representative for Aramark Uniform Services, a position he has held since 2003.
A 1997 graduate of Coe College in Cedar Rapids, Iowa, Martin has a Bachelor of Arts degree in business administration and business education with a coaching certificate.