September 12, 2012
Augustana moves up to 15th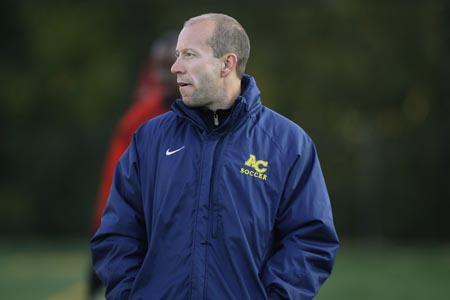 Head coach Scott Mejia's Vikings are ranked 15th in the latest NSCAA/Continental Tire women's soccer poll. Augustana is 4-0-0 after a pair of victories on a weekend trip to Spokane, Washington.
KANSAS CITY, Kan. – A pair of wins over teams from the state of Washington has head coach Scott Mejia's Augustana soccer team ranked 15th in the nation according to the recently released NSCAA/Continental Tire poll. The Vikings defeated Puget Sound and Whitworth by scores of 1-0 and 2-1, respectively, in Spokane, Washington this past weekend. The Puget Sound match featured a stellar performance from freshman goalkeeper Meredith Chew (Paradise Valley, Phoenix, Ariz.) , while freshman Kelly Farell (St. Ursula Academy, Sylvania, Ohio) netted the game winning goal on a penalty kick in a double overtime win over Whitworth. Chew was recently named the College Conference of Illinois & Wisconsin's "Player of the Week" for her performance at the Whitworth Tournament.
Augustana travels to Dubuque, Iowa on September 13 to take on the Spartans from the University of Dubuque. This contest is scheduled to begin at 7:00 p.m.
2012 NSCAA/CONTINENTAL TIRE NCAA DIVISION III WOMEN'S RANKINGS
Poll #2
| | | | |
| --- | --- | --- | --- |
| Rank | School | Previous | W-L-T |
| 1 | William Smith | 1 | 3-0-1 |
| 2 | Emory | 2 | 3-0-1 |
| 3 | Wheaton (Ill.) | 4 | 5-0-0 |
| 4 | Messiah | 5 | 2-1-1 |
| 5 | Trinity (Texas) | 6 | 3-0-1 |
| 6 | Johns Hopkins | 3 | 3-1-1 |
| 7 | Amherst | 7 | 0-0-0 |
| 7 | Hardin-Simmons | 8 | 2-0-1 |
| 9 | Washington (Mo.) | 9 | 3-0-0 |
| 10 | Middlebury | 10 | 1-0-0 |
| 11 | Lynchburg | 11 | 4-0-0 |
| 12 | Ithaca | 17 | 4-0-0 |
| 13 | Centre | 25 | 4-0-0 |
| 14 | Virginia Wesleyan | 16 | 5-0-0 |
| 15 | AUGUSTANA | 19 | 4-0-0 |
| 16 | Wisconsin-Oshkosh | 22 | 4-0-0 |
| 17 | College of New Jersey | 20 | 4-0-0 |
| 18 | Brandeis | RV | 4-0-0 |
| 19 | Union (N.Y.) | NR | 5-0-0 |
| 20 | Ohio Northern | 18 | 2-0-2 |
| 21 | Misericordia | RV | 4-0-0 |
| 22 | Wartburg | NR | 4-1-0 |
| 23 | Wheaton (Mass.) | RV | 3-0-1 |
| 24 | Case Western Reserve | 13 | 2-1-1 |
| 25 | Chapman | NR | 4-0-0 |
Receiving votes: Concordia-Moorhead (Minn.), Alma, Steven Institute of Technology, Westfield State, SUNY New Paltz, Springfield, MIT, Linfield
- Story written by student assistant Paul Hurd