September 11, 2012
Leazer's 16 kills leads way in CCIW opener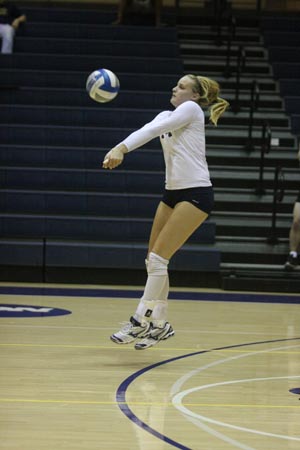 Sophomore Emily Leazer had 16 kills as Augustana defeated North Park 3-1 on Tuesday night in Chicago to tip off the 2012 College Conference of Illinois & Wisconsin volleyball season.
CHICAGO, Ill. - Thanks to a 16 kill performance from sophomore outside hitter Emily Leazer (St. Viator HS, Mt. Prospect, Ill.), Augustana got off to successful start in College Conference of Illinois & Wisconsin volleyball action against North Park on Tuesday, September 11 in Chicago, Illinois. The Vikings picked up a 3-1 (25-22; 16-25; 25-21; 25-22) victory to move to 5-2 overall and 1-0 in league play.
Leazer had 16 kills in 53 attempts with six errors for a hitting percentage of .189. She added four service aces with 14 digs.
Augustana won the first set by a score of 25-22 before dropping the second set 25-16. The Vikings picked up a 25-21 win in the third set and then closed out the match with a 25-22 victory.
Leazer was the only Augustana player in double figures in kills but sophomore Samantha Kammerman (Sherrard HS, Milan, Ill.) and freshman Martha Murray (Evanston HS, Evanston, Ill.) each chipped in with nine. Kammerman had nine in 29 attempts with five errors for a hitting percentage of .138. She had two service aces, 15 digs, three solo blocks and two assisted blocks. Murray picked up her nine kills in 37 attempts with 11 digs, two assisted blocks and one service ace.
Freshman Jordan Hampel (Hilliard Davidson HS, Hilliard, Ohio) led the team in setting assists with 31 and she also had 14 digs with one service ace. Freshman Kylie Siebert (Kaneland HS, Elburn, Ill.) had a team leading 20 digs with five setting assists and one service ace. Junior Katrina Colclasure (Tri-Valley HS, Bloomington, Ill.) contributed 19 digs. Senior Sarah Williams (Rockford Lutheran HS, Loves Park, Ill.) picked up five assisted blocks and had three kills.
Augustana will compete in the Alverno Tournament in Milwaukee, Wisconsin on Friday, September 14 and Saturday, September 15.