September 9, 2012
Vikings get 1-0 win over Concordia-Chicago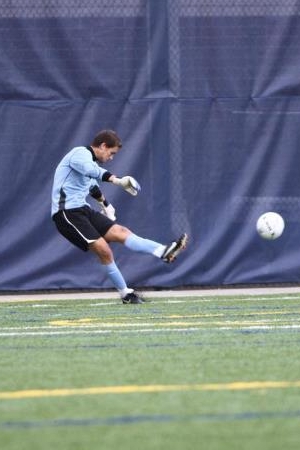 Junior goalkeeper Tyler Cowherd posted a shutout Sunday as Augustana defeated Corncordia-Chicago 1-0 in Winona, Minnesota.
WINONA, Minn.-Josh Bennett (Wheaton North HS, Winfield, Ill.) scored the only goal of the match and goalkeeper Tyler Cowherd (Bettendorf, Iowa) earned the shutout Sunday as Augustana defeated Concordia-Chicago 1-0 at the St. Mary's University Cardinal M Club Weekend Classic. With the win, coach Brenton Joseph's Vikings even their record at 2-2 on the year. The Cougars drop to 0-4 in 2012.
Despite dominating statistically, it took the Vikings until the 78th minute to find the back of the net. Bennett, who played last season at the College of DuPage, scored off an assist from freshman Patrick Nelson (Jacksonville HS, Jacksonville, Ill.). It was Bennett's second goal of the season and Nelson's first assist and the pair is now tied for the team lead with five points.
Meanwhile, Cowherd improved to 2-1 on the year with his first shutout of the season. The junior recorded three saves on the day.
Augustana finished with a 20-8 edge in total shots, a 4-3 advantage in shots on goal and a 7-1 margin in corners. The Cougars committed 10 fouls and were issued four cautions in the contest.
The Vikings are back in action on Thursday, September 13, when they'll play their 2012 home opener at Thorson-Lucken Field. Principia will be their opponent in a match scheduled for 7:00 p.m.