September 8, 2012
Barlage leads Vikings to second place finish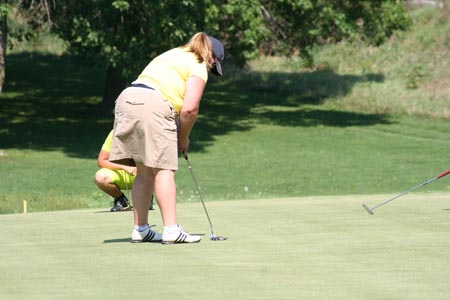 Freshman Samantha Barlage finished third individually at the Fighting Scot Invitational on Saturday, September 8 at Gibson Woods Golf Course in Monmouth, Illinois with a score of 84. She helped Augustana finish second in the team standings at the 14-team invitational.
MONMOUTH, Ill. - Freshman Samantha Barlage (Marian Catholic HS, Lansing, Ill.) recorded her best score of the young season and helped Augustana to a second place team finish at the 2012 Fighting Scot Invitational on Saturday, September 8. The Vikings, led by Barlage's 84, had a score of 348 at Gibson Woods Golf Course in Monmouth, Illinois.
Barlage, whose best score in three previous meets was an 88 in a season-opening dual against St. Ambrose, shot 84 on Saturday and finished third individually. Ashley Beverage of Elmhurst and Gabbi Schuerman of Millikin tied for the individual title as each shot 81 with Barlage just three strokes back in a tie for third with Andrea Falco of Robert Morris-Chicago. Bailee Goodfellow of Mount Mercy was fifth with an 85.
Veteran head coach Ron Standley's Vikings shot 348, their second best score of the season, and were just five strokes back of Mount Mercy's winning total of 343. Millikin (350), Elmhurst (352) and Robert Morris-Chicago (362) rounded out the top five. Monmouth was sixth at 363 with Clarke, Edgewood and Illinois College all tying for seventh at 381. The Augustana "B" team placed 10th with a 389 while Benedictine was 11th with a 408 and Knox was 12th at 411. Carl Sandburg and Fontbonne did not field complete teams.
Barlage was the lone Augustana golfer in the top 10 but the Vikings displayed plenty of balance behind her. Junior Jamie Lawrence (Moline HS, Moline, Ill.) tied for 11th with a score of 87 while senior captain Morgan Wilkinson (Westmont HS, Westmont, Ill.) was tied for 15th at 88.Junior Dena Capitani (Hinsdale Central HS, Hinsdale, Ill.) was tied for 18th with an 89 and junior Kelly Olson (Prairie Ridge HS, Crystal Lake, Ill.) shot a 98 to round out the Augustana team.
The Vikings "B" team got a round of 90 out of freshman Michelle Dempster (Mother McAuley HS, Oak Lawn, Ill.), which was good for a tie for 20th place.
Augustana will be in action again on Thursday, September 13 at the Carthage Invitational at Meadowbrook Golf Course in Racine, Wisconsin.