September 8, 2012
19th-ranked Vikings remain unbeaten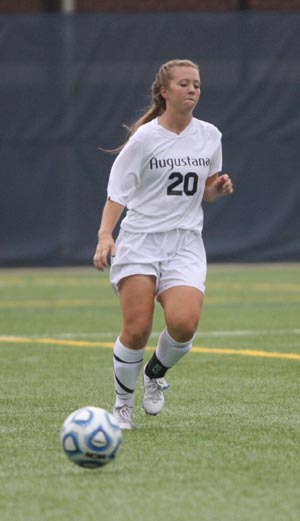 Freshman Kelly Farell gave Augustana a 2-1 win over Whitworth with a penalty kick goal in the second overtime Saturday in Spokane, Washington.
SPOKANE, Wash.-Freshman Kelly Farell (St. Ursala Academy, Sylvania, Ohio) converted a penalty kick in double overtime Saturday to keep Augustana undefeated with a 2-1 win at Whitworth. The 19th-ranked Vikings are now 4-0 on the season, while Whitworth falls to 0-4.
The match was scoreless for nearly 73 minutes until Whitworth accidentally headed in an Augustana free kick, resulting in an own goal and a 1-0 Viking lead. It looked as though that might be enough for Augustana to get the win, but the Pirates' Tiara Pajimola bounced one in off the right post from 15 yards out in the 85th minute to knot the score at 1-1.
Pajimola got off one more shot in regulation, as did Taylor Moesle (Sandburg HS, Orland Park, Ill.) and Kirsten Boesen (Normal West HS, Gibson City, Ill.) for the Vikings, but all were wide and the teams went to overtime.
Augustana got off three shots on goal in the first extra session, but Pirate keeper Ashley Rockroth stopped all of them. Whitworth squeezed off two shots in the period, neither of which was on goal.
Finally, in the 107th minute, the hosts were called for a penalty in the box and Farell finished things off with her team-high fourth goal of the season.
Whitworth outshot the Vikings 16-12 in the match, although Augustana put nine of its shots on goal to seven for the Pirates. The hosts also held an 8-5 edge in corners. Freshman Meredith Chew (Paradise Valley HS, Phoenix, Ariz.) logged all 106:57 in goal for the Vikings, recording six saves. Rockroth went all the way as well and had seven saves.
Coach Scott Mejia's club will travel to Dubuque to face the Spartans on Thursday, September 13. That match is scheduled for a 7:00 p.m. start.