September 8, 2012
Sawyer gets 100th victory in win at IWU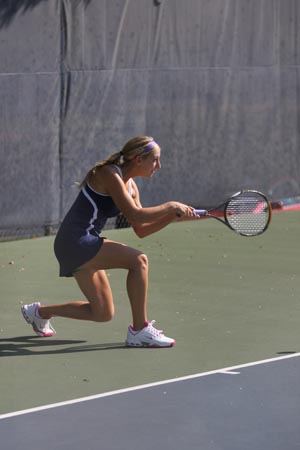 Junior Kim Sawyer won in both singles and doubles and she went over the 100-victory mark for her career during Augustana's 9-0 win over Illinois Wesleyan on Saturday, September 8.
BLOOMINGTON, Ill. - During a 9-0 College Conference of Illinois & Wisconsin victory over Illinois Wesleyan, Augustana junior Kim Sawyer (Batavia HS, Batavia, Ill.) eclipsed a significant milestone. Sawyer went over the 100 victory mark for her career as the Vikings moved to 4-1 on the year with the shutout over the Titans on Saturday, September 8 in Bloomington, Illinois.
Sawyer, who entered the day with 99 career wins, won twice as she upped her career record to 101-40 with singles and doubles combined. She defeated Andrew Kerwin 6-1; 6-2 at number one singles and then teamed with freshman Aileen MacDonald (Mundelein HS, Mundelein, Ill.) at number one doubles to beat Kerwin and Helen Alex 8-4. Sawyer is now 5-0 in singles this year and she and MacDonald are 4-1 in doubles.
Despite the 9-0 score, this match could actually have been closer. Two of Augustana's six singles victories went three sets with the Vikings prevailing in lengthy tiebreakers. At number two singles junior Emily Kaczmarek (Glenbard South, Lombard, Ill.) defeated Alex 4-6; 7-5; 10-8 and at number six singles junior Katie Scharnagle (Wheaton St. Francis HS, Lisle, Ill.) earned a hard-fought 6-3; 4-6; 13-11 win over Nicole Nelson.
Senior Krista Panko (Geneva HS, Geneva, Ill.), who preceded Sawyer into the 100 victory club last weekend, rolled to a 6-1; 6-1 win over Alissa Goetz at number three singles. MacDonald beat Svenja Schroeder 6-0; 6-1 at number four. Junior Mariah Bardo (Sterling HS, Sterling, Ill.) beat Lauren Casey at fifth singles by a score of 6-4; 6-4.
MacDonald and Sawyer were joined in the winner's circle in doubles by the number two team of sophomores Miranda Pence (Oswego HS, Oswego, Ill.) and Chelsea Lavin (Downers Grove South HS, Downers Grove, Ill.) and the number three unit of Panko and senior Meghan Wethington (Geneseo HS, Geneseo, Ill.). Pence and Lavin beat Goetz and Schroeder 8-3 while Panko and Wethington defeated Casey and Nelson 8-5.
Augustana will host Carthage in a key CCIW matchup on Wednesday, September 12 at 3:30 p.m.