September 8, 2012
Central holds off Vikings 17-10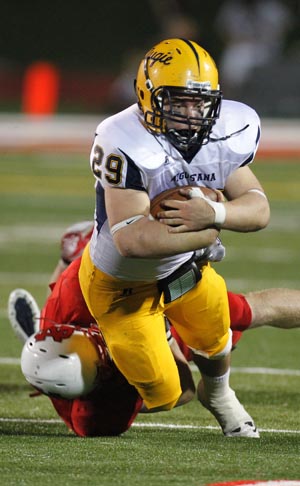 Junior Eric Chandler hauled in a 58-yard touchdown pass from Nick Welch Saturday, but the Vikings fell 17-10 at Central.
PELLA, Iowa-The first three quarters of Saturday's Augustana-Central matchup featured a lone field goal. However, the scoring picked up considerably in the final period, with the Dutch eventually holding off the Vikings by a score of 17-10. Central evens its record at 1-1 on the year, while the Vikings fall to 0-2.
The Dutch were clinging to a 3-0 lead on the first play of the fourth quarter when quarterback Aaron Eiseler, on in relief of starter Jack Flaherty, play faked to Ross Doerhmann and went in over the right side from five yards out for the game's first touchdown. The play capped an eight-play, 42-yard drive and Kevin Sheldon's point after gave Central a 10-0 lead. Augustana missed a golden opportunity to stop the Dutch just one play earlier. On the final play of the third quarter, the shotgun snap from Central center Anthony Wolf hit a receiver going in motion, but Eiseler alertly fell on the ball to preserve the possession.
The Vikings responded to Eiseler's touchdown with their first scoring drive of the game. Senior quarterback Nick Welch (Oswego HS, Oswego, Ill.) connected with junior Nick Krantz (Moline HS, Moline, Ill.) for 36 yards to the Dutch 21-yard line before Central's defense buckled down, forcing a 32-yard Brady Rogers (Cherokee Trail HS, Parker, Colo.) field goal which cut the lead to 10-3.
It took the hosts just 1:42 to answer, going 70 yards in four plays. Flaherty, back in at quarterback, connected with Blaine Forsythe for a 49-yard touchdown pass and a 17-3 lead.
Augustana wasn't finished, however. Following an exchange of punts, the Vikings took over at their own 30 with 7:14 remaining. After picking up a first down, they faced fourth-and-10 from their own 42 when Welch broke a tackle, rolled to his left and found junior running back Eric Chandler (Cary-Grove HS, Cary, Ill.) all alone down the left sideline. Chandler outraced the Dutch secondary into the end zone and Rogers' PAT got the visitors back within a touchdown at 17-10.
A fired-up Viking defense forced a Central three-and-out, giving the offense one more chance. Starting from its own eight-yard line with 3:09 left, Augustana moved the ball out to its own 39. However, Welch's second-down pass deep into Central territory was picked off by Jake Edelman to seal the Dutch victory.
The lone score prior to the final period came on Central's first possession. After forcing a Viking punt on the game's opening series, Flaherty led the Dutch on an 11-play, 59-yard march which reached the Augustana five-yard line before an illegal procedure penalty and an incomplete pass forced them to settle for a 27-yard Sheldon field goal. Central had another first-quarter drive thwarted by a Bo Goshorn (Romeoville HS, Romeoville, Ill.) interception at the goal line. The Vikings also stopped the Dutch on fourth-and-one from the Augustana five-yard line with 6:31 left in the second quarter.
The Viking running game, which had some success at Dubuque last week, produced just 49 yards on 31 carries against Central. Junior Kyle Snow (Wheaton Warrenville South HS, Wheaton, Ill.) led with 22 yards on four carries. Welch completed six of 16 passes for 141 yards. Krantz had a team-high three catches for 50 yards, while Chandler had two grabs for 61 yards and senior Derek Schneeman (Streator HS, Streator, Ill.) two for 24.
Central rushed for 179 yards, averaging 3.5 per carry, and completed 11 of 21 passes for 138 yards against an Augustana defense which was again led by Erik Westerberg's (York HS, Elmhurst, Ill.) 14 tackles. Rob Mago (Cary-Grove HS, Cary, Ill.) had nine stops and Ben Fornek (Batavia HS, Batavia, Ill.), Mike O'Donoghue (Mundelein HS, Mundelein, Ill.) and Joe Weber (Marmion Academy, South Elgin, Ill.) eight each.
Next Saturday, the Vikings welcome Loras for Augustana's 2012 home opener. It will be Family Weekend and kickoff is scheduled for 6:00 p.m. at Ericson Field.