September 7, 2012
Walter leads way with 71 at Chanay Invitational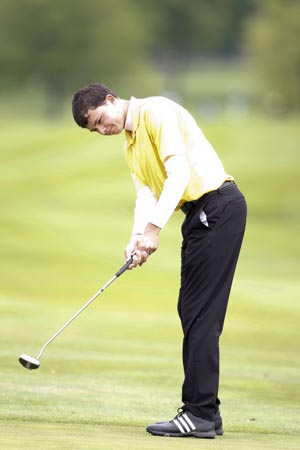 Sophomore Josh Kukla shot a 74 at Byron Hills Golf Course in Port Byron, Illinois during the Duane Chanay Invitational on Friday, September 7. He had the second lowest score recorded for the Vikings on the day.
PORT BYRON, Ill. - It is still early in the 2012-13 men's golf season but Paul DelVecchio's Augustana squad has been impressive in two outings so far. The Vikings shot 304 on Friday, September 7 and placed fourth in the Duane Chanay Invitational, hosted by Black Hawk College at Byron Hills Golf Course in Port Byron, Illinois.
The 304 at Byron Hills came just three days after Augustana recorded a 303 at The Meadows in Asbury, Iowa and placed second in the Loras Invitational on Tuesday, September 4.
On Friday at the Chanay Invitational the Vikings were led by freshman Alex Walter (Camp Point Central HS, Camp Point, Ill.). Walter shot 71 and finished third in the individual standings. He scorched the front nine with a 33 and came back with a 38 on the back nine.
Cody Reiber of Carl Sandburg won the event with a 70 while his teammate, Nick Gustafson, was second with an identical score.
Illinois Central College won the 16 team event with a score of 288, just three strokes better than host Black Hawk's 291. The College of DuPage was third with 300 and Augustana, Rock Valley and Elgin all had 304 with the Vikings getting the nod in fourth based on a better fifth man score. Illinois Valley (306), Augustana's B (307), Carl Sandburg (307) and Black Hawk Black (309) made up the top 10. Moraine Valley (313), Sauk Valley (317), Palmer (317), Judson (333), Madison (336) and Oakton (347) rounded out the field.
While Walter was leading the way for Augustana with his 71, sophomore Grant Murphy (Dunlap HS, Peoria, Ill.) and junior David Cook (United Township HS, Silvis, Ill.) each shot 77. Senior Jeff Paustian (Geneva HS, Geneva, Ill.) rounded out the Vikings' scoring with a 79. Sophomore Jake Groselak (Lemont HS, Lemont, Ill.) shot an 80. Groselak's score was important because it lifted his team out of a three-way tie for fourth place.
Not to be lost on the day was the performance of the Augustana "B" team. With sophomore Josh Kukla (Zion-Benton HS, Winthrop Harbor, Ill.) leading the way with a 74, this unit placed eighth with a score of 307, just three strokes behind the "A" team. Kukla's round was the second-best performance of the afternoon for the Vikings. Sophomore Max Channon (Wheaton-Warrenville South HS, Wheaton, Ill.) finished with a 76, which was the third-best for Augustana. Freshman David Ferlmann (Peoria Notre Dame HS, Dunlap, Ill.) carded a 78 and fellow freshman Kody Damewood (Monmouth-Roseville HS, Monmouth, Ill.) had a 79. Junior John Stone (Rockridge HS, Reynolds, Ill.) shot 90.
Augustana's next outing will be on September 13 at the Vike/Scott/Fire Cup in Monmouth, Illinois at Gibson Woods Golf Course. That is a triangular meet between Augustana, Monmouth and Knox.