September 7, 2012
Sawyer closes in on 100 wins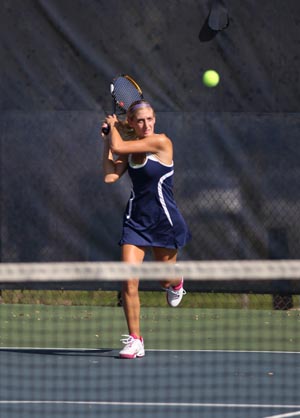 Junior Kim Sawyer won both her singles and doubles matches in Augustana's 9-0 win at Millikin on Friday, September 7. Sawyer is now just one victory away from reaching 100 career victories.
DECATUR, Ill. - Augustana completely dominated Millikin in College Conference of Illinois & Wisconsin women's tennis action on Friday, September 7. The Vikings beat the Big Blue 9-0 in a match that began outdoors at the Fairview Tennis Center but was moved to the Decatur Athletic Club because of thunderstorms.
Head coach Jon Miedema's team only lost two games in the entire match, winning five of the singles competitions by 6-0; 6-0 scores and all three doubles by 8-0 margins. The biggest news of the evening was the fact that junior Kim Sawyer (Batavia HS, Batavia, Ill.) climbed to within one win of 100 career victories.
Sawyer beat Cydney Boyd 6-0; 6-0 at number one singles and then teamed with freshman Aileen MacDonald (Mundelein HS, Mundelein, Ill.) at number one doubles to defeat Boyd and Brianna Hogan 8-0. Sawyer is now 99-40 in her career as a Viking and this season she is 4-0 in singles and 3-1 in doubles.
Junior Emily Kaczmarek (Glenbard South HS, Lombard, Ill.) beat Hogan 6-2; 6-0 at number one singles. Senior Krista Panko (Geneva HS, Geneva, Ill.), who went over the 100 career victory mark herself earlier this season, won at number three singles by a score of 6-0; 6-0 against Kelly Commons. MacDonald picked up a 6-0; 6-0 win against Ashlee Colby at number four singles.
Junior Mariah Bardo (Sterling HS, Sterling, Ill.) grabbed a 6-0; 6-0 win over Ashley Zozokos at number five singles and junior Katie Scharnagle (Wheaton St. Francis HS, Lisle, Ill.) nailed down a 6-0; 6-0 victory over Madeline Knott at number six singles.
Sophomores Chelsea Lavin (Downers Grove South HS, Downers Grove, Ill.) and Miranda Pence (Oswego HS, Oswego, Ill.) beat Commons and Colby at number two doubles 8-0. Panko and senior Meghan Wethington (Geneseo HS, Geneseo, Ill.) defeated Zozokos and Knott 8-0 at number three doubles.
Augustana is now 3-1 on the season with three straight wins after a season opening defeat at Grinnell and the Vikings are 2-0 in the College Conference of Illinois & Wisconsin. They will face Illinois Wesleyan on Saturday, September 8 in Bloomington, Illinois in a key CCIW contest.