September 7, 2012
Statistics aside, Vikings stay unbeaten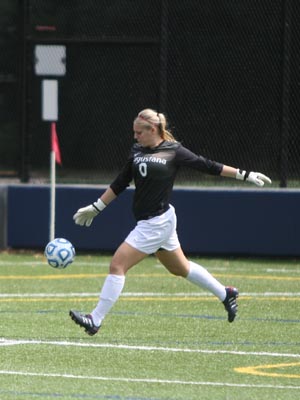 Freshman Meredith Chew recorded five saves and her second shutout of the season as Augustana, ranked 19th in NCAA Division III, moved to 3-0 with a 1-0 win over Puget Sound in Spokane, Washington on Friday, September 7.
SPOKANE, Wash. - Statistics don't always tell the story in soccer and that was the case on Friday, September 7 in Spokane, Washington when 19th ranked Augustana defeated Puget Sound 1-0. The Vikings were outshot and lost the battle of corner kicks but came out on the correct side of the scoreboard to remain undefeated at 3-0.
Puget Sound held a 15-6 advantage in shots but the Viking defense was up to the task and freshman goalkeeper Meredith Chew (Paradise Valley, Phoenix, Ariz.) picked up her second shutout of the young campaign. She picked up a total of five saves (three in the first period and two in the second).
Augustana scored its only goal of the match in the first half when senior Taylor Moesle (Carl Sandburg HS, Orland Park, Ill.) fought through the Logger defense and rammed home a rebound from her own missed shot. It was the third goal of the season for Moesle.
Moesle had five of the six Viking shots in the contest. The other Augustana shot came from freshman Somer Druszkowski (Lincoln-Way Central HS, Manhattan, Ill.).
The Vikings, who were unranked in the NCAA Division III pre-season poll, started the year with a 4-2 win over Loras on August 31 and followed that with a 2-0 victory against Concordia-Wisconsin on September 2. The two victories jumped veteran head coach Scott Mejia's team all the way to 19th in this past week's national poll.
Augustana will face Whitworth on Saturday, September 8, also in Spokane.