Essay on sugar proves sweet: Bode wins prize
September  07, 2012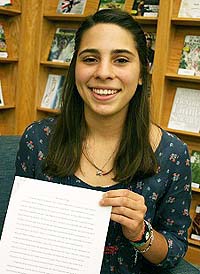 Natali Bode
Sophomore Natali Bode will be honored Sept. 18 as the winner of the 2012 Tredway Library Prize for First-Year Research. Bode's winning essay, "A Spoonful of Sugar," discusses the health risks of sugar consumption and explains how government regulation could play a role in solving the problem.
"In writing this essay, I learned that if you do some preliminary research about a topic before starting your essay, create an outline of your essay beforehand, and take things one step at a time, something as daunting as a 10 page paper can be accomplished," Bode said. "I also learned that talking ideas through with someone, like a professor or friend, helps construct an organized paper.
Bode wrote the paper for a first-year liberal studies class, "Power and Privilege in American Drama," taught by Dr. Jennifer Popple.
The awards ceremony will begin at 4 p.m. Sept. 18 at the library, second floor south. The award carries a $400 prize.
Bode is a sophomore from Aurora, Ill., majoring in elementary education. She participates in Club Ed and Spanish Club and also has been involved with the Augustana chapter of Camp Kesem, a national program that provides free camping opportunities to children affected by a parent's cancer.
Judges, who selected "A Spoonful of Sugar" from among 37 entries, said they were impressed by Bode's "well-developed proposed solutions — bold, yet practical — to a ubiquitous public health issue.
"Though governmental regulation of individuals' sugar consumption is a broad issue with many stakeholders, Natali's essay makes it more approachable by examining it first broadly and historically, then through specific present-day national and local Augustana examples. Natali skillfully weaves thorough research into her argument in a logical, reader-friendly approach, all the while gently addressing objections with rational and compassionate responses. Moreover, her paper is lively, engaging, and exhibits conscientious attention to the conventions of good writing."