September 6, 2012
Dubuque comes back to defeat the Vikings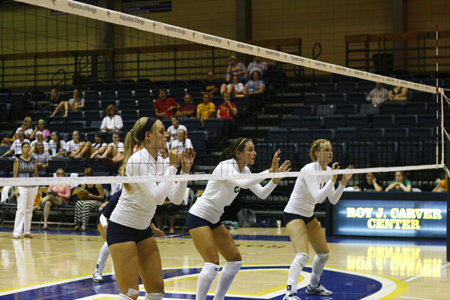 Sophomores Dory Dudley (L) and Emily Leazer (R) and senior Sarah Williams (C) await a Dubuque serve in Augustana's five-set loss to the Spartans Thursday at Carver Center.
ROCK ISLAND, Ill.-Down two sets and seven points in the third, Dubuque staged a big comeback and rode the momentum to a five-set win over Augustana Thursday night at Carver Center. Both teams are now 4-2 on the season.
The Vikings led almost the entire way in the opening set. It was close early on, but the hosts won four straight points to take a 14-8 lead. After Dubuque answered with two points, the Vikings took the next three, including one on an ace, with sophomore Emily Leazer (St. Viator HS, Mt. Prospect, Ill.) serving. The Spartans cut it to 18-14, but a Samantha Kammerman (Sherrard HS, Milan, Ill.) block stemmed the tide and Augustana went on to get the 25-18 win.
The second set was a nip-and-tuck affair. Dubuque led most of the way, but neither team held an advantage of more than two points until freshman Kylie Siebert's (Kaneland HS, Sugar Grove, Ill.) ace put the home team up 24-21. The Spartans jumped out in front early and Augustana came back to take a brief lead before the visitors went back in front by two. Freshman Martha Murray (Evanston Township HS, Evanston, Ill.) tallied a kill to end a long rally and get the Vikings even at 15-15 and the set was tied on every point from then until Augustana took a 23-21 lead. A point after Siebert's ace, a Kammerman kill ended the set.
A Leazer kill opened set number three and after a Dubuque hitting error gave the Vikings a 2-0 lead, she served five straight winning points, including a pair of aces, to make it 7-0. The Spartans came back to cut the lead to 11-8, prompting a time out from Augustana coach Jamie Walters. However, the visitors kept coming, taking their first lead of the set at 14-13. It reached 17-14 before a kill and ace by Leazer and a Murray kill tied it at 17-17. After the Vikings took a 24-21 lead, Dubuque staved off three match points to tie at 24-24 before eventually winning 27-25.
The momentum from their big comeback in the third set carried over for the Spartans in the fourth. They won the first three points and cruised to a 25-15 win. The deciding set started similarly, with the visitors taking the first five points before Augustana came back to eventually tie it at 13-13. The Vikings led 16-15, but Dubuque fought off another match point and won the next two to take the match.
Murray and Leazer led the Vikings in kills with 13 and 12, respectively. Leazer had a team-best five aces as well as 32 digs, second only to Siebert's 44. Freshman Jordan Hampel (Hilliard Davidson HS, Hilliard, Ohio) led with 18 assists and junior Katrina Colclasure (Tri-Valley HS, Bloomington, Ill.) had 15, in addition to 20 digs.
Augustana opens College Conference of Illinois & Wisconsin play on Tuesday, September 11, traveling to Chicago, Illinois to take on North Park in a 6:00 p.m. match.