September 6, 2012
Olson & Dempster tie for sixth at Augie Classic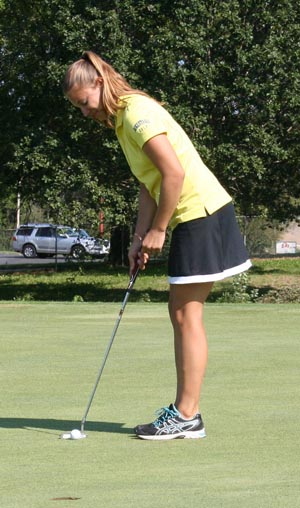 Junior Kelly Olson shot 85 and tied for sixth at the Augie Fall Classic on Thursday, September 6 at Emeis Golf Course in Davenport, Iowa.
DAVENPORT, Iowa - Augustana finished fourth in the Augie Fall Classic on Thursday, September 6 at Emeis Golf Course in Davenport, Iowa. The Vikings recorded a team score of 355 and were led by two players who did not even figure in to the final total.
Junior Kelly Olson (Prairie Ridge HS, Crystal Lake, Ill.) and freshman Michelle Dempster (Mother MacAuley HS, Oak Lawn, Ill.) each recorded 85s on the day and tied for sixth place in the individual standings. Because neither was tabbed among the top six players before the tournament began, however, their scores did not count in the Augustana team totals.
Heidi Chronowski of Carthage took individual medalist honors with an 81 on the par-72, 5836 yard layout at Emeis. Megan Miehe of St. Ambrose, Hannah Long of Monmouth and Talor Ahmann of St. Ambrose tied for third with scores of 83 and Julie Klawitter of Carthage had an 84 in fifth place.
Carthage won the team title with a score of 338 while St. Ambrose was second with 347 and Ashford was third with 349. Augustana's total of 355 was fourth while Robert Morris placed fifth with 358 and Monmouth was sixth at 261. North Central finished seventh with a score of 369.
Olson had a front nine of 44 and came back with a 41 while Dempster had 42 on the front and 43 on the back.
The top Augustana scorer in the team totals was senior Megan Vandersee (Sterling HS, Sterling, Ill.) with an 88, which was good for 14th place. Vandersee had even nines of 44 each. Senior Morgan Wilkinson (Westmont HS, Westmont, Ill.) shot 89 (46-43) and was tied for 18th.
Junior Jamie Lawrence (Sterling HS, Sterling, Ill.) also shot 89 (44-45) as did junior Dena Capitani (Hinsdale Central HS, Hinsdale, Ill.) with a front nine of 44 and a back nine of 45. Freshman Samantha Barlage (Marian Catholic HS, Lansing, Ill.) shot 92 (44-48) and junior Kelly Farina (Normal West HS, Bloomington, Ill.) had a 93 (49-44).
The Vikings of veteran head coach Ron Standley will be busy this weekend, playing at the Knox Invitational in Galesburg, Illinois on Friday, September 7 and the Monmouth Invitational in Monmouth, Illinois on Saturday, September 8.