September 6, 2012
2011-12 Season - Bryant Voiles to work out for the Orlando Magic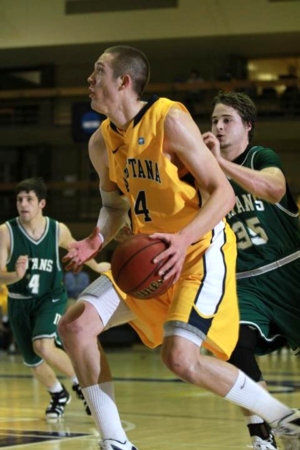 Augustana's Bryant Voiles has been invited to a free agent tryout for the NBA's Orlando Magic.
ROCK ISLAND, Ill.-An April appearance in the prestigious Portsmouth Invitational Tournament has paid off for two-time Augustana MVP Bryant Voiles. Voiles, who wrapped up his collegiate career this past winter, has been invited to a free agent tryout for the Orlando Magic. He leaves Sunday for the three-day workout, which runs from Monday through Wednesday.
The opportunity with the Magic came about, in part, as a result of Voiles' performance at Portsmouth. A teammate of his there, Kyle O'Quinn of Norfolk State, signed with Orlando in early August and the 6' 9", 209-pound Voiles hopes to follow a similar path. The Magic have a new head coach, former Kansas University All-American Jacque Vaughn, and are undergoing a roster shakeup following the trade of star big man Dwight Howard.
Earlier this summer, Voiles, a Byron, Illinois native, had a one-day workout for the Minnesota Timberwolves.
Augustana head coach Grey Giovanine, who has had seven former Vikings continue their basketball careers professionally, likes Voiles' chances to do so somewhere. "We're really excited for Bryant. This is a tremendous opportunity, to have a three-day tryout to fill an open NBA roster spot. The exposure from this, along with Portsmouth and the Timberwolves tryout, can only increase his options overseas also."
Voiles is represented by the same agent as former Augustana standout Kyle Nelson. A two-time first team All-CCIW selection, Nelson just completed a successful rookie season in Latvia, where he was selected to his league's All-Star game.
A two-time second team All-CCIW pick, Voiles led the Vikings in scoring and rebounding in 2011-12 with averages of 14.2 points and 7.2 boards per contest. His top game was a 38-point, 10-rebound performance at St. Ambrose and he had 25 points and six steals in an exhibition contest at Division I Valparaiso. He was the Vikings' top free throw shooter at .830 (117 of 141) and tied for the team lead with 36 three-point field goals. He finished his career at Augustana with 881 points and 460 rebounds, ranking 36th and 25th, respectively, on the school's career lists. His 112 career three-point field goals are 10th-best in school history, as are his 48 blocked shots. He ranks 16th in career three-point percentage (.385), free throws made (237) and free throws attempted (315) and is in the top 50 in games played (84), free throw percentage (.752) and assists (131) as well.