Institute for Leadership and Service upcoming events
September  06, 2012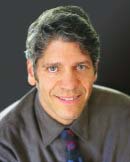 American social and political activist Paul Loeb will speak on Sept. 27.
The Augustana Institute for Leadership and Service will host six free, public events on campus in September involving science, art, theatre and history, plus a poetry reading and an address on the role of a citizen.
Dr. Kristin Douglas, associate dean, said the Institute for Leadership and Service was established to plan and support the kinds of conversations that inspire and promote deep understanding, and she acknowledged the contributions of Perry Waughtal '58.
"The institute brings a wide array of successful individuals to meet with Augie students, faculty and local residents," she said. "Experience has shown that students participating in these programs have been inspired to view leadership and service in a more thoughtful way."
Events are:
Thursday, Sept. 13, "When Scientific Technicalities Matter" by Dr. Christopher Essex, 7:30 p.m. in the Olin Auditorium,
Friday, Sept. 14, "Perle Fine and Lee Krasner: From the Hofmann School to Abstract Expressionism" by Dr. Gail Levin, 7:30 p.m. in Larson Hall, Bergendoff Hall of Fine Arts. (Details)
Friday, Sept. 14, "Dreams in the Arms of the Binding Lady," Izumi Ashizawa Performance Company, 7:30 p.m., Potter Theatre, Bergendoff Hall of Fine Arts. (Details)
Monday, Sept. 17, "Minnesota's Other Civil War: The Dakota Conflict of 1862" by Stephen Osman, 7 p.m., Hanson Hall of Science, Room 102. (Details)
Thursday, Sept. 20, River Readings with writer and poet Carl Phillips, 7 p.m., Wallenberg Hall, Denkmann Memorial Hall. (Details)
Thursday, Sept. 27, "Soul of a Citizen: Hope in a Time of Fear" by social and political activist Paul Loeb, 10:30 a.m., Centennial Hall. (Details)
"Learning happens both inside and outside of the classroom," said Dr. Douglas. "Many meaningful learning experiences for students occur through informal conversations during small group interactions with faculty and campus guests."
Sam Schlouch
Senior Communication Director
(309) 794-7833
samschlouch@augustana.edu