September 5, 2012
Buric's summer internship pays off for Augustana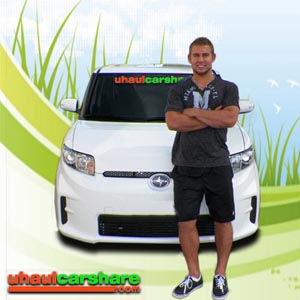 Augustana soccer standout Michael Buric has been the driving force behind bringing the "Car Share" program to Augustana after he had a summer internship with U-Haul in Scottsdale, Arizona.
Michael Buric (Notre Dame Prep HS, Scottsdale, Ariz.) is not a person to waste an opportunity. Whether it is on the soccer field or in the business world, the Augustana junior from Scottsdale, Arizona is always in the middle of the action. He plays an integral position on the defense for the Vikings' men's soccer team and this summer he got involved in a business program that is ultimately going to benefit a multitude of students on the Augustana campus.
Buric, who was an all-conference defender last year in the College Conference of Illinois & Wisconsin, spent his summer vacation working at an internship at the international headquarters with U-Haul in his hometown of Scottsdale. He was assigned to a three-person team in the marketing department where he worked with the head of social media. During the course of his internship he became aware of a U-Haul program called "Car Share".
The premise behind "Car Share" is simple and is ready-made for urban areas and college campuses. U-Haul puts a car in a designated parking spot in a high-density living area, like an apartment complex or a college residential life building. Each car has a GPS system installed and will be linked to a satellite which can be accessed from U-Haul's "Car Share" website. For a nominal fee ($8.00 per hour), a person can "rent" the car. It is perfect for college students who don't have a car on campus but need to use one on occasion for transportation.
"The minute I heard about this plan, I thought about how we could make it work at Augustana," said Buric, who is a business administration and finance major with minors in accounting and economics. "The savings to a college student will be incredible. A parking sticker at Augustana costs $200 per year. That would buy an awful lot of rental hours for a car."
Ever the finisher, Buric didn't just think it would be a great plan; he got on his lap-top and started firing off e-mails to anybody he could think of at Augustana who might help him get his plan off the ground. He started with Augustana president Steve Bahls but "he was in Alaska or somewhere" before eventually finding an interested administrator in the person of Dr. Evelyn Campbell, the vice-president in charge of student services.
Campbell immediately saw the value of the "Car Share" program. "This is a great program for a college like Augustana where student life revolves around what is happening on campus," said Campbell. "Because of that, students do not leave campus on a regular basis and thus a lot of them don't bring cars with them. Like any of us, though, sometimes students need to purchase something, get away to a movie, get to an appointment off campus, etc. and to be able to do that without the hassle of maintaining a car is a wonderful benefit."
Campbell was impressed with the simplicity of the service. "I think this is an ingenious program," she commented. "College campuses are full of young people who really don't need a car very often, but will use a car if it is convenient and affordable."
This program is just one more service that Augustana can offer to its students.
"I am really pleased to be offering this service to our students this year and am grateful for Michael's part in it," she said. "To have a program like this available for any student with a driver's license is great and to know that one of our own was responsible for implementing in it makes it all the more special."
Buric is proud of the role he played in starting the "Car Share", which should go live on the Augustana campus by the middle of September.
"This is something that is really going to help the student population at Augustana," said Buric. "I am happy that I had a hand in getting it started."
Brenton Joseph, Buric's coach on the men's soccer team is not surprised that Buric would be involved in a project of this magnitude. "Mike is the kind of guy who is a natural leader," said Joseph. "He shows that on the field and he also displays that off the field as well. He plays a position on our team that is integral to any success we might have. He has to be accountable on the field and that translates over to other facets of life as well."
Joseph chuckled when told about Buric's role in the "Car Share" program. "Well, Mike is a natural salesman and he is always thinking about things economically so I am not surprised."
Buric agreed with his coach's assessment. "I always think about stuff in an economic way," he laughed.
Buric is no stranger to delving into the business world. As a high school sophomore he started his own car detailing business in Scottsdale and it paid off.
"I ran it out of my garage," he said. "I researched it and met with other professionals in the car detailing business so I knew exactly what I wanted to do. It was pretty cool when people were handing me the keys to very expensive cars and trusting me to work on them."
He ran his business (Executive Auto Detailing) so well that he was one of just six students in Arizona to be awarded a "Young Entrepreneur of the Year" award in 2010 by the National Federation of Independent Businesses.