September 4, 2012
Murphy's 73 leads Vikings to second place at Loras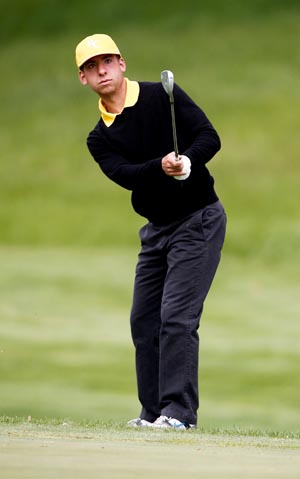 Sophomore Grant Murphy fired a one-over-par 73 to lead Augustana to a second place finish in the Loras Invitational on Tuesday, September 3 to start the 2012 men's golf season. Murphy finished in a tie for fourth place in the individual standings.
ASBURY, Iowa - Led by sophomore Grant Murphy's (Dunlap HS, Peoria, Ill.) 73, the Augustana men's golf team finished second in the 13-team Loras Invitational on Tuesday, September 4 at The Meadows Golf Course in Asbury, Iowa. Murphy was one over par with his 73 and tied for fourth in the individual standings.
The Vikings of second year head coach Paul DelVecchio recorded a 303 in the team score and placed second behind Mount Mercy's winning total of 291. Dubuque took third (303), Clarke was fourth (308) and Mount Mercy's Gold team finished fifth with 311. Loras was sixth at 313 and Cole was seventh at 322. Simpson Gold (323), Loras Gold 9325), Simpson Red (326), Dubuque White (333), Augustana #2 (344) and Clarke #2 (368) rounded out the scoring.
Josh Udelhofen of Clarke won the individual title with a four-under-par score of 68. Sam Herrmann of Loras was second with a 71 and Ryan Schlueter of Mount Mercy took third with a 72. Murphy was one of six players who tied for fourth with 73.
Augustana senior Jeff Paustian (Geneva HS, Geneva, Ill.) tied for 12th with a 75 and freshman Alex Walter (Camp Point Central HS, Camp Point, Ill.) took 16th with a 77. Sophomore Jake Groselak (Lemont HS, Lemont, Ill.) tied for 20th with a 78 and junior Dave Cook (United Township HS, Silvis, Ill.) was the fifth scorer for the Vikings' varsity with an 83.
Freshman David Ferlmann (Peoria Notre Dame HS, Dunlap, Ill.) led Augustana's #2 team with a 79, which tied him for 25th in the individual standings.
Augustana will be back in action on Friday, September 7 at the Duane Chanay Invitational at Byron Hills Golf Course in Port Byron, Illinois.