September 4, 2012
Vikings defeat Lincoln Christian in straight sets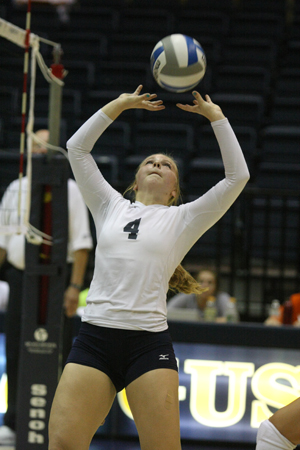 Freshman Jordan Hampel led the Vikings with 17 assists and three service aces in a three-set win over Lincoln Christian Tuesday night.
ROCK ISLAND, Ill.-Coach Jamie Walters' Augustana volleyball team moved to 4-1 on the young season with a victory over Lincoln Christian at Carver Center Tuesday night. The Vikings won 25-19, 25-21 and 25-17 for their third consecutive straight-set win.
Augustana led a tight first set just 18-15 before taking three straight points to extend the lead to 21-15. The teams split the final eight points of the set, giving the Vikings a 25-19 win.
The hosts battled back from an early deficit to take a 12-11 lead in the second set. The Red Lions responded by winning five of the next six points to regain a 16-13 lead. However, Augustana won 12 of the final 17 points, including five of the last six, for a 25-21 win. Emily Leazer's (St. Viator HS, Mt. Prospect, Ill.) kill off an assist from freshman Jordan Hampel (Hilliard Davidson HS, Hilliard, Ohio) ended the set.
The Vikings trailed 9-8 in the third, but put together a string of eight straight points to take a 16-9 lead. Lincoln Christian called two timeouts during the run, but could stanch the flow. Augustana took the set 25-17 with a Leazer kill again ending things.
Leazer, a sophomore, finished the night with a team-high 10 kills. Sophomore Dory Dudley (Tremont HS, Tremont, Ill.) added six and freshman Martha Murray (Evanston Township HS, Evanston, Ill.) five. Hampel had 17 assists and seven digs. She shared the team lead in aces with sophomore Stephanie Petkovsek (Lisle HS, Lisle, Ill.) as well. Junior Katrina Colclasure (Tri-Valley HS, Bloomington, Ill.) led the Vikings with 16 digs.
Augustana will try to stay on its current roll when Dubuque visits Carver Center on Thursday, September 6 at 7:30 p.m.