September 4, 2012
Rettke's two goals not enough at Central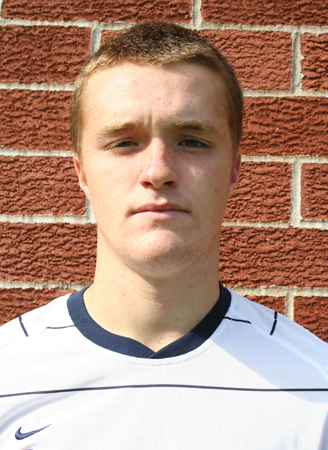 Freshman Jakob Rettke score a pair of goals, but the Vikings fell 5-2 at Central on Tuesday.
PELLA, Iowa - Freshman Jakob Rettke (Columbia-Rock Bridge HS, Columbia, Mo.) scored two goals Tuesday evening, but it wasn't enough, as Augustana fell to 0-2 with a 5-2 loss at Central. Brandon Bautista's goal in the 17th minute put the Dutch ahead 2-1 and the hosts, now 1-1-1 on the season, went on to the win.
Central's Jordan Apenzeller got the scoring started with a goal off a Matt Woodcock assist in the seventh minute. Rettke tied it in the twelfth minute with an assist from junior John McSpadden's (Geneva HS, Geneva, Ill.) corner kick, but Bautista's goal, which was unassisted, gave the Dutch a lead they wouldn't relinquish.
Nick Hauenstein's goal in the 31st minute sent the teams to the locker room with Central leading 3-1.
Woodcock and Apenzeller reversed roles in the 56th minute, with Woodcock's header off an Apenzeller assist making it 4-1. Rettke cut the lead in half in the 72nd minute with his second goal, this time off an assist from sophomore Josh Bennett (Wheaton North HS, Winfield, Ill.). However, Central answered less than a minute later when Serge Sievertson's goal made it 5-2 with the help of an Aleksandar Lavas assist.
Junior Tyler Cowherd (Bettendorf HS, Bettendorf, Iowa) went the distance in goal for the Vikings, recording three saves. The Dutch outshot Augustana 18-15, including 8-4 in shots on goal. The Vikings held a slight 4-3 edge in corners.
Coach Brenton Joseph's club will try to pick up its first win on Saturday, September 8 in Winona, Minnesota, where they will take on Lawrence in a 2:00 p.m. match. On Sunday, the Vikings face Concordia-Chicago, also in Winona, at noon.