September 2, 2012
Wilkinson leads way at Illinois College Invitational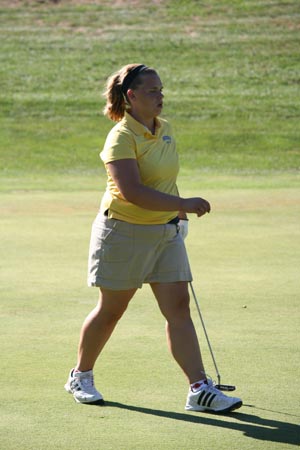 Senior Morgan Wilkinson led the Augustana effort at the Illinois College Invitational with an 11th place finish and a two-day score of 172.
JACKSONVILLE, Ill. - After opening the 2012 women's golf season a week ago with a dual meet victory over St. Ambrose, Augustana moved into tournament-style competition over the Labor Day weekend. The Vikings of veteran head coach Ron Standley placed sixth in the Illinois College Fall Invitational on Saturday, September 1 and Sunday, September 2 at The Links in Jacksonville, Illinois.
Senior Morgan Wilkinson (Westmont HS, Westmont, Ill.) led the way for Augustana with an 11th place individual finish in the 12 team event. She recorded a two-day total of 172 with an 84 on Saturday and an 88 on Sunday.
Augustana had a team score of 712 over the 36-hole tournament. The Vikings shot 360 on the first day of the par 72 course and lowered that to 352 on the second day. Indiana Tech won the tournament with a score of 682 (341+341) while Illinois Wesleyan was second with 692 (343+349). Millikin took third at 695 (347+348) while Rend Lake was fourth with a score of 701 (357+344). Wisconsin Platteville's 711 (357+354) was just ahead of Augustana's 712. Monmouth ended up seventh at 726 (363+363) and Clarke was eighth with 745 (380+365). Illinois College (762 - 387+375), Lincoln (800 - 414+386) and Millikin's B team (829 - 409+420) rounded out the field.
Senior Megan Vandersee (Sterling HS, Sterling, Ill.) was the next-best Viking finisher behind Wilkinson. Vandersee placed 20th with a score of 177 (88+89). Junior Jamie Lawrence (Moline HS, Moline, Ill.) took 21st with a score of 178 as she shook off a first round of 92 to come back and shoot 86 the second day.
Freshman Samantha Barlage (Marian Catholic HS, Lansing, Ill.) shot 185 (96+89) and junior Kelly Farina (Normal West HS, Bloomington, Ill.) had a 191 (102+89).
The Vikings will host the Augustana Invitational on Thursday, September 6 at Emeis Golf Course in Davenport, Iowa with action getting underway at 10:00 a.m.