September 2, 2012
Moesle scores twice in 2-0 win over Concordia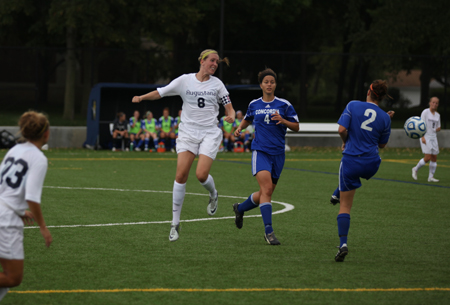 Senior midfielder Taylor Moesle scored both of Augustana's goals Sunday in a 2-0 win over Concordia (Wis.) at Thorson-Lucken Field.
ROCK ISLAND, Ill.-Senior Taylor Moesle (Sandburg HS, Orland Park, Ill.) scored two first-half goals and goalkeeper Meredith Chew (Paradise Valley HS, Phoenix, Ariz.) and the Augustana defense made them hold up as the Vikings defeated Concordia (Wis.) 2-0 Sunday afternoon at Thorson-Lucken Field. Augustana improves to 2-0 on the season, while the Falcons fall to 1-1.
Concordia controlled play early on, taking the match's only three shots in the first 19 minutes. However in the 25th minute, Moesle got free outside the box and lofted a shot just out of the reach of Falcon keeper Samantha Anacker for a 1-0 Augustana lead.
In the 40th minute, Moesle took a Kerri Skotnicki (Waubonsie Valley, Aurora, Ill.) throw-in, held off a defender and dropped in another goal over Anacker's head from 20 yards out to give the Vikings a 2-0 advantage. That's how the first half would end.
Augustana controlled play in the second half as well, outshooting the Falcons 6-2 and piling up a 6-1 edge in corners. Chew, along with the Viking back line, which included Skotnicki, Morgan Olsen (Downers Grove North HS, Woodridge, Ill.), Kimberly Grimmer (Downers Grove South HS, Woodridge, Ill.) and Maggie Hoscheit (St. Charles East HS, St. Charles, Ill.), denied Concordia many legitimate scoring opportunities over the last three-quarters of the match.
Chew went almost 86 minutes in goal and recorded four saves before giving way to senior Bridget McDermott (Prospect HS, Mt. Prospect, Ill.).
Augustana wound up with advantages of 14-10 in total shots, 6-4 in shots on goal and 6-2 in corners.
The first road trip of the season for coach Scott Mejia's squad will be a long one. The Vikings travel to Spokane, Washington, where they'll take on Puget Sound on Friday, September 7 and Whitworth on Saturday, September 8. Both of those matches are scheduled for noon starts.